Sweet Potato Fritters (Ve)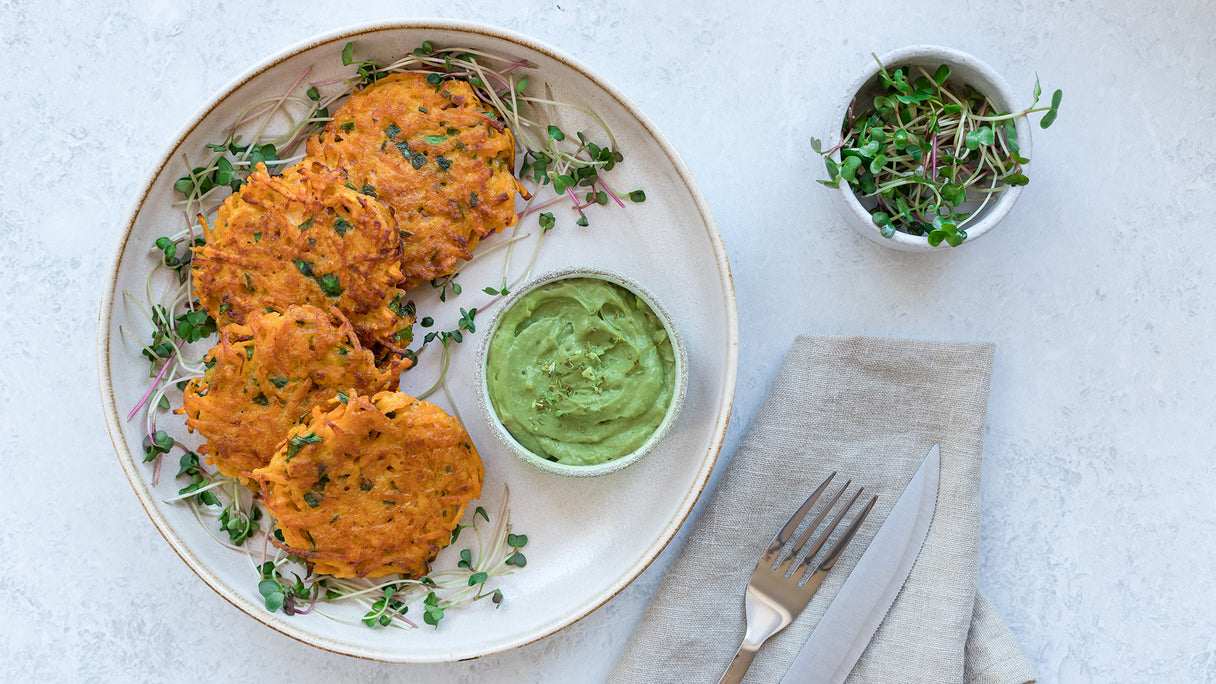 Check out these tasty courgette and sweet potato fritters with some harissa and ginger added for extra spice!
This is a less traditional fritter recipe as we've opted to bake these instead of frying in oil as it's lower in fat and healthier. They are gluten and dairy-free fritters and can be enjoyed as a healthy starter, side, or snack.
Sweet potato is packed full of Vitamin A and C, which are important for growth, cell division, reproduction, and our immune systems.
Courgettes are nutrient dense and contain potassium, Vitamin C and folic acid, which play a role in muscle contraction and the nervous system. 
If you're looking for daily support, check out our Daily Multi-Vitamin including 24 essential nutrients.
Not a fan of sweet potato? Try our Cheesy Oven Baked Broccoli and Cauliflower Fritters.
How to make this sweet potato fritters recipe even healthier...
You can prepare baked fritters that are healthier but not as crispy, or pan-fried, which are crispier but use more oil so are have a higher calorie and fat content.
Oil is a saturated fat that is naturally high in calories. Heat causes chemical changes in all oils which alters their nutritional content. The addition of oil in frying increases the calorie and fat content of the food.
Baking adds little or no oil, thus not adding any additional calories and does not typically cause nutrients to break down, which further contributes to its reputation as a healthier cooking method.  
Sweet Potato Fritter Recipe (vegan friendly)
Outrageously delicious, just happens to be vegan. Let's get cooking!
Ingredients
2 sweet potatoes, peeled and grated

1 courgette, grated

2 spring onions, finely chopped 

3 garlic cloves, finely chopped 

A handful of coriander, chopped 

5 tbsp chickpea flour (or plain flour) 

1/2 tbsp ginger, peeled and grated or finely chopped 

2 tbsp harissa paste (depending on how spicy you like it)

1 tsp paprika powder

Salt and pepper to taste
Method
Preheat the oven to 200 degrees celsius fan. 

Squeeze the grated sweet potato and courgette in a clean tea towel to squeeze out excess liquid, then add to a mixing bowl. (This is an important step to make wonderfully crispy fritters!)

Add in spring onion, paprika, garlic, ginger, chopped coriander stalks and mix well until combined. Then add in chickpea flour and harissa paste and combine well. Season with salt and pepper to taste. (If the mixture is too wet, add more chickpea flour until the mixture holds a ball when formed in your hands)

Line a large baking tray with parchment paper & spray oil where your fritters will go.

Scoop out 2 tablespoons of sweet potato fritter mixture and use your hands to mould into 12 balls. Place evenly onto the baking sheet and flatten them slightly into a pattie shape. 

Spray some oil on top of the fritters before putting the tray into the oven for 25-30 minutes, until crisp and golden.

Once done, allow to cool before serving.
Serving suggestions:
Guacamole or avocado

A squeeze of lemon juice on top with vegan plain yoghurt and serve alongside some salad leaves 
Recipe by our wonderful team member Clódagh Ní Chléirigh.
If you enjoyed this recipe you may also enjoy our Vegan Pizza Recipe or Mushroom Stroganoff.
View our range of Vegan Vitamins & Supplements. 
Want to hear more from our nutritionists? Sign up to our email newsletter for insights and exclusive offers: