Screen Eyes™
Complete eye health support ▪︎ 60 capsules ▪︎ 2 a day
With Lutein, Meso-Zeaxanthin & Zeaxanthin
No. 1 supplement for eye health
Frequently paired with...
What our customers say
Immediate benefit - subtle eyesight improvement, enough to reassure me (i'm very sensitive - aware of even very slight differences with my body) Thanks.

Keith
I've been taking Screen Eyes daily for 14 months and I'm now aged 90. I've been monitored at Addenbrookes Hospital for Age Related Macular Degeneration (AMD) and possible glaucoma. At my recent checkup my condition was stable and my annual eye test has found one eye could read 3 rows lower than 12 months ago so my prescription has changed, and Screen Eyes must be working!

Grace
As I'm in the menopause phase my eyes have been dry and tired - could hardly open them in the morning - I have had a dry patch close to my eye which was easily irritated. This has made a difference and I am finding my focus is clearer - the redness around my eyes has decreased.

Yogiali
These make my eyes much less tired and dry since I started three weeks ago.

Lily
I spend a number of hours every day looking at a screen for my work and this has definitely helped with eye strain.

Sue
I have multiple conditions which affect my eyes and have suffered increasing discomfort, blurred vision, trouble focusing and eye pain during lockdown because of extra time spent online. I felt a significant improvement and relief within 48 hours of taking Screen Eyes.

Lexi
Excellent high quality product, perfect for a person who has so much screen time due to my work. Good to give my eyes some much needed support.

Russell
Excellent product, impressed with the effectiveness of Screen Eyes in the short time I have been using it.

R.D.
Very helpful for eyes. If some one has any eye problems, Screen Eyes is the solution.

Baldev
Products are amazing. Vitamins fit snugly into my refill tin. Would highly recommend.

Michelle
I feel they have made a slight difference. It's the old adage how do you know.

Caroline
Excellent product, impressed with the effectiveness of this product in the short time I have been using, great to see a well thought out product with quality ingredients and nothing undesirable in its contents.

Mr Dunn
Great service, fast delivery.

Kiran
Purchased for the first time Screen Eyes, have only had them 2 days, easy to order and rapid delivery.

John
Brilliant service from Dr Vegan - excellent communication and fast shipping, but more than that just really great products that work.

Lisa-Jane
Communication is brilliant as is information which goes a long way to understanding everything about product.

Moira
20/20
Top tip: When working at your computer, regularly look away from your screen and focus on something 20 feet away for 20 seconds.
More tips
Why take Screen Eyes™?

Supports vision health
Helps protect against age-related macular degeneration (AMD)
Formulated for digital eye strain
Comprehensive full-spectrum formula

For adults and teenagers
Enriches macular pigment and helps protect eyes from light
Contains four carotenoids: Lutein, Zeaxanthin, Meso-zeaxanthin, Astaxanthin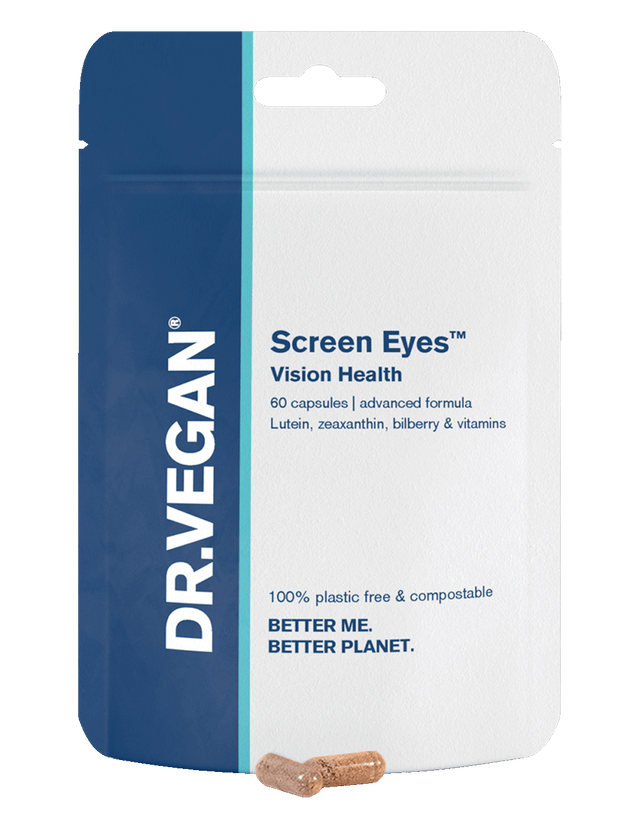 Questions? We have answers:
What carotenoids are in Screen Eyes™

Can my diet support my vision?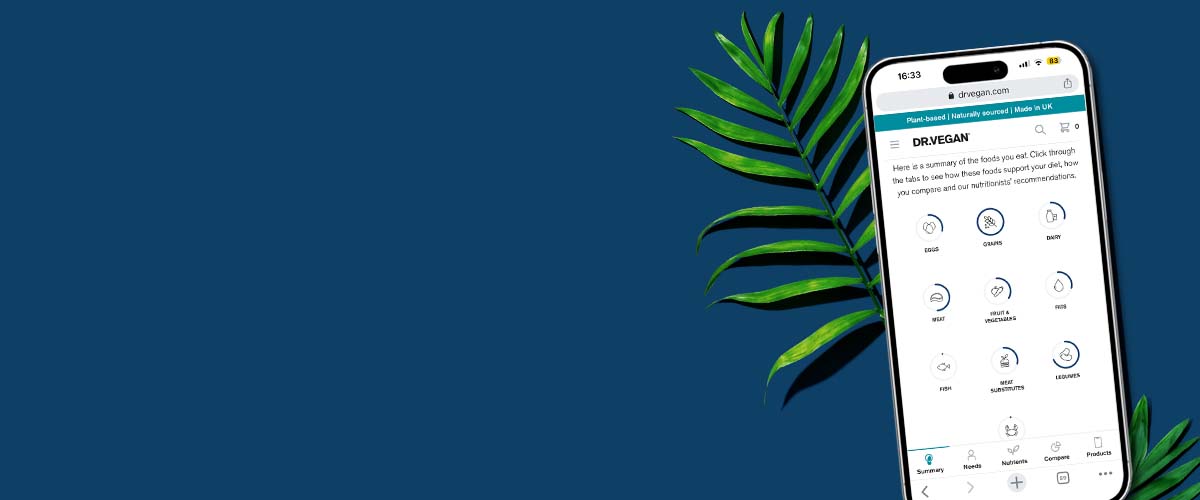 NOT SURE WHAT YOUR DIET IS MISSING?
Create your FREE Diet Profile today and discover the nutrients your body needs and what you may be missing.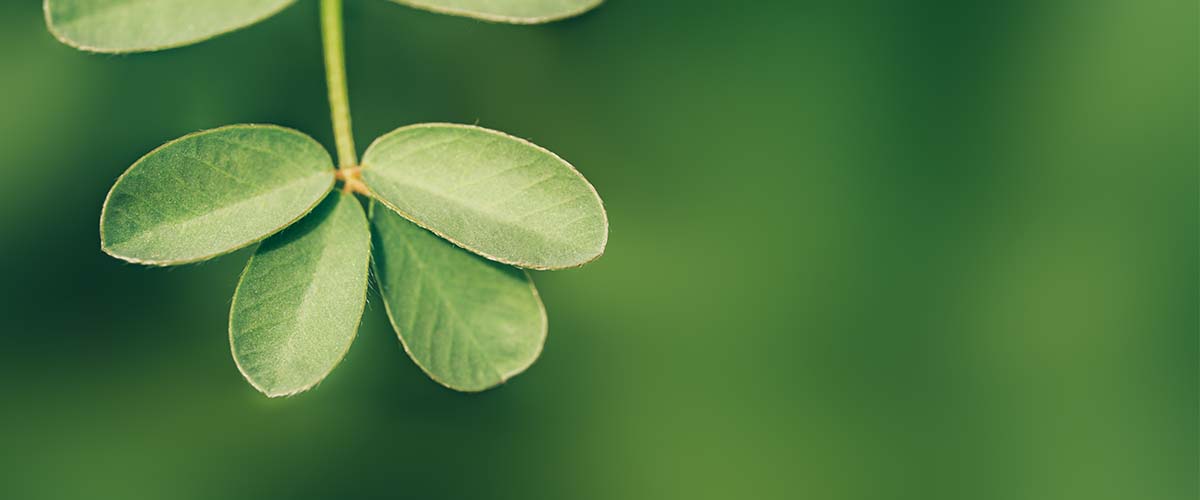 PLANET POSITIVE
All our products are plant-based, naturally sourced with zero nasty additives and certified home-compostable. By giving customers a sustainable, plastic-free supplement option, we've helped save over 15 tonnes of plastic from entering landfill.
Nutrition

| | PER 2 CAPSULES | EC %NRV* |
| --- | --- | --- |
| Lycored Lutein | 15mg | ** |
| Meso-Zeaxanthin | 10mg | ** |
| Zeaxanthin | 2mg | ** |
| Astaxanthin | 2mg | ** |
| Bilberry | 50mg | ** |
| Provided by Bilberry Extract | 12.5mg | ** |
| Vitamin A | 600µg RE | 75 |
| Vitamin B2 | 3mg | 214 |
| Vitamin C | 80mg | 100 |
| Vitamin E | 20mg α-te | 166 |
| Zinc | 10mg | 100% |
| Carrot (powder) | 5mg | ** |
| Pumpkin (powder) | 5mg | ** |

* NRV - Nutrient Reference Value
** No NRV Established
Description

Screen Eyes™ is the most comprehensive formula for adults and teenagers to feed your eyes with nutrients for your vision health. It's estimated up to 80% of us suffer from Digital Eye Strain (DES) and the numbers are rising. Our eyes are more and more exposed to light damage and oxidative stress caused by digital screens in addition to age-related macular degeneration we are all at risk of.

Including carotenoids lutein, meso-zeaxanthin, zeaxanthin and astaxanthin, alongside Vitamins A, B2, C and E, Zinc and Bilberry extract, Screen Eyes™ is your go-to formula for daily protection for your eyes.

Digital Eye Strain (DES), also known as computer vision syndrome (CVS) affects over 50% of people including both children and adults. Prolonged use of digital devices is the main cause of DES, causing sore and tired eyes, blurry vision, dry eyes, headaches and even neck and shoulder pain.

(Source: Optometrists Network)

Your macular is the functional centre of your retina, the light-sensitive tissue which lines the inside of your eye. It is centred at the back of our retina and gives you the ability to see "20/20" and provides the best colour vision. While your retina provides your peripheral vision, your macula is where light is focused from external sources and gives you the ability to see in great detail. Your macular is also the most sensitive part of your eye to light emitted from phones, tablets and computers, and is where the most important images are created before being sent to your brain.

(Source: VMR Institute)

Nearly 1.5m people in the UK have macular disease and it affects people of all ages

(Source: Macular Society)

. Age-related macula degeneration (AMD) is the most common condition, generally affecting people over the age of 55 and is the biggest cause of sight loss in the UK.

Carotenoids are naturally occurring plant pigments and include lutein, zeaxanthin and meso-zeaxanthin, all of which are found in your macular pigment:

- Lutein is a carotenoid that accumulates on your macular pigment at the back of your eye. It is gained through your diet including dark green leafy vegetables such as kale, spinach and peas.

- Zeaxanthin is also a natural carotenoid and can be gained in your diet through bright-coloured fruits and vegetables such as peppers.

- Meso-zeaxanthin is the main carotenoid found in the central part of your macula.

- Astaxanthin is a naturally occurring red carotenoid. Several recent clinical trials highlight the potential role of astaxanthin in promoting eye health, as suggested by the significant improvement in the outcomes of various ocular conditions.

(Source: US Library of Medicine)

- Vitamin A, Vitamin B2 and Zinc contribute to the normal maintenance of your vision. Vitamin E and C protect your cells from oxidative stress.

- Bilberry maintains eye health, providing anti-oxidant support for the eyes and providing a natural defence against free radicals. It also protects against tired eyes and supports your retinal function.

Want to know more? Read why our Screen Eyes™ is so good

References:
- American Optometric Association (2021): Caring for your eyes
- Bernstein et al (2015): Lutein, Zeaxanthin and meso-Zeaxanthin: The basic and clinical science underlying carotenoid-based nutritional interventions against ocular conditions. Progress in Retinal and Eye Research. 50:34-66 - The Effect of Lutein on Eye and Extra-Eye Health
- Lutein supplementation for eyes
- Lutein and Zeaxanthin Isomers in Eye Health and Disease
- Lutein, Zeaxanthin, and meso-Zeaxanthin in the Clinical Management of Eye Disease
Ingredients

INGREDIENTS: Marigold Extract providing: Lycored Lutein, Meso-Zeaxanthin and Zeaxanthin, Brown Rice Flour, Astaxanthin, Vitamin C (Ascorbic Acid), Zinc Citrate, Vitamin E (D-Alpha Tocopherol Acid Succinate), Rice Fibre, Bilberry (Vaccinium myrtillus) Extract, Rice Extract Blend, Vitamin A (Retinyl Acetate), Pumpkin (Cucurbita moschata) Powder, Carrot (Daucus carota) Powder, Vitamin B2 (Riboflavin), Capsule Shell (Hydroxypropyl Methylcellulose).

FREE FROM: Added Sugar, Starch, Sweeteners, Gluten, Wheat, Soya, Lactose, Dairy, Artificial Flavours, Colours and Preservatives.

DIRECTIONS FOR ADULTS AND CHILDREN OVER 12: Take 2 capsules per day, with food. Do not exceed recommended dose.