The Best Vegan Pizza! (Ve)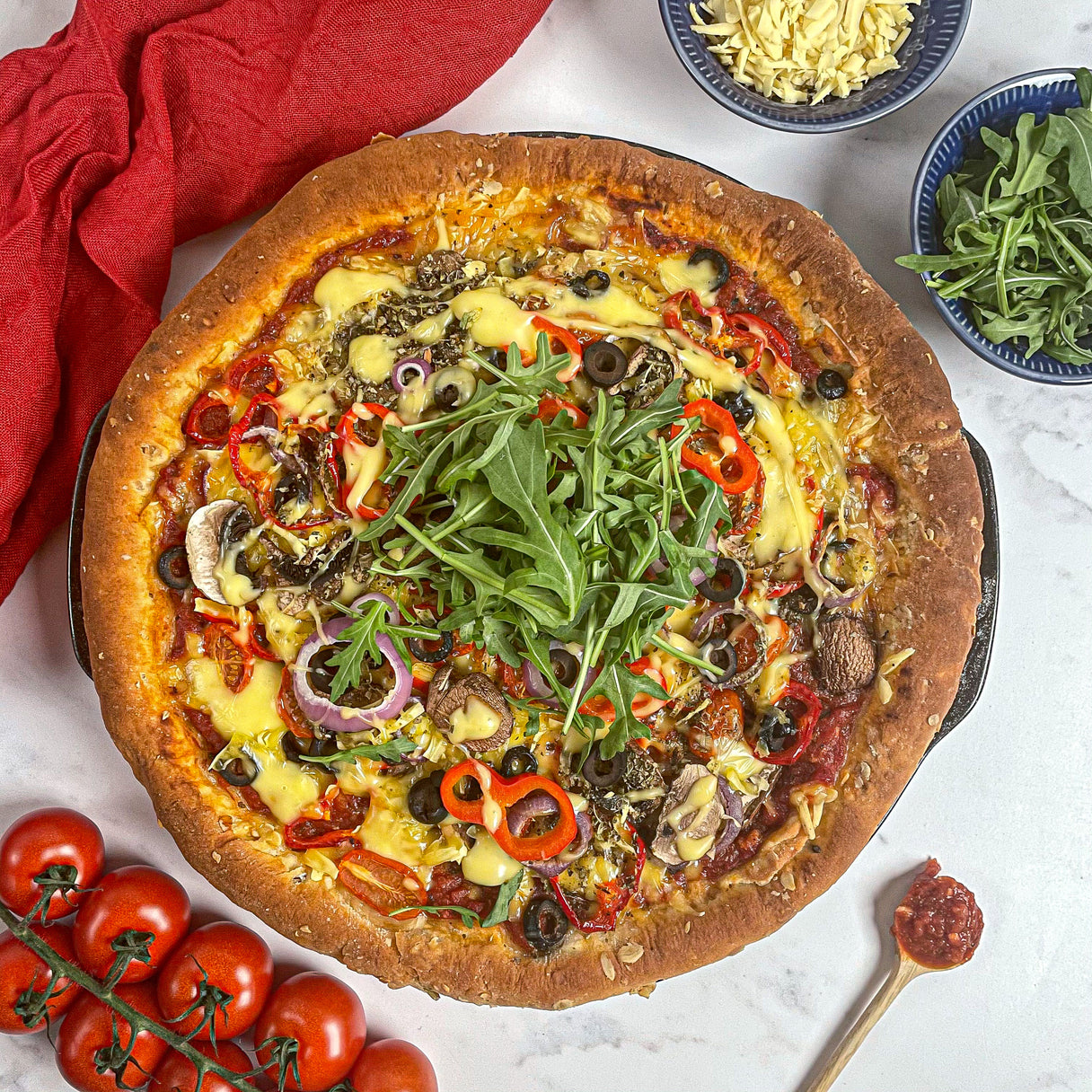 Not just for vegans. This is the best pizza dough and it's completely without animal ingredients. Fun to make and make your own with your choice of toppings. Go mad, like us.  
While lazy evenings call for ordering pizza, motivated evenings call for a homemade pizza at a fraction of the cost and with thrice as many ingredients.
On with the show...
Ingredients
For the dough
Flour (250g) Yeast (7g) Sugar (2 tsp) Salt (1/2 tsp) Olive oil (2 tsp) Oats (30g)
For the pizza sauce
Whole canned tomatoes (1)
Tomato puree (1)
Garlic (3 cloves)
Italian herb mix (
basil, marjoram, oregano, rosemary and thyme)
Pizza Toppings - make it your own, we've gone for...
Rucola/Arugula/Rocket (50g)
Red onion (1)
Bell peppers (2 medium sized)
Tomatoes (200g)
Black olives (50g)
Mushrooms (150g)
Vegan pizza cheese (We used Violife)
Method

Pizza dough prep
In a large mixing bowl combine flour, yeast, sugar, salt, and olive oil. Stir to combine. Gradually add 1 cup of lukewarm water to the dough and continue folding the dough.

Transfer to a lightly floured surface and knead for at least 5 minutes. Transfer to a bowl brushed with olive oil and cover with a clean cloth. Let the dough raise for 30- 60 minutes.
 Pizza sauce prep
For preparing the sauce, add canned tomatoes and tomato puree in a saucepan over medium heat. Crush the tomatoes with a spatula. Add crushed garlic and Italian herb mix.

Simmer on medium heat until the sauce reaches a consistent, thick texture. Season with salt or pepper to taste. 
Pizza prep
Once the dough has risen, add oats and knead shortly to combine.
On a floured work surface, spread the dough into a circle or rectangle of desired thickness by using your hands. The edges should be thicker to form a nice pizza crust.
Spread the sauce evenly with a spoon on top of the pizza dough.

Add layers of your ingredients followed by grated cheese. (We added several layers of each ingredient.)
5. Bake at 200°C for 30 minutes. In case of thinner crust pizza with less ingredients, lower the temperature and baking duration accordingly.
Slice and dig in!  
If you liked this recipe, we recommend trying: Mushroom Stroganoff
Full credit to Couple of Chefz, follow them on instagram at @couple_of_chefz or head to their website www.coupleofchefz.com for more delicious recipes! Working in proud partnership with DR.VEGAN.
Discover our range of vegan vitamins and supplements.
Want to hear more from our nutritionists? Sign up to our email newsletter for insights and exclusive offers: