Mushroom Stroganoff (Ve)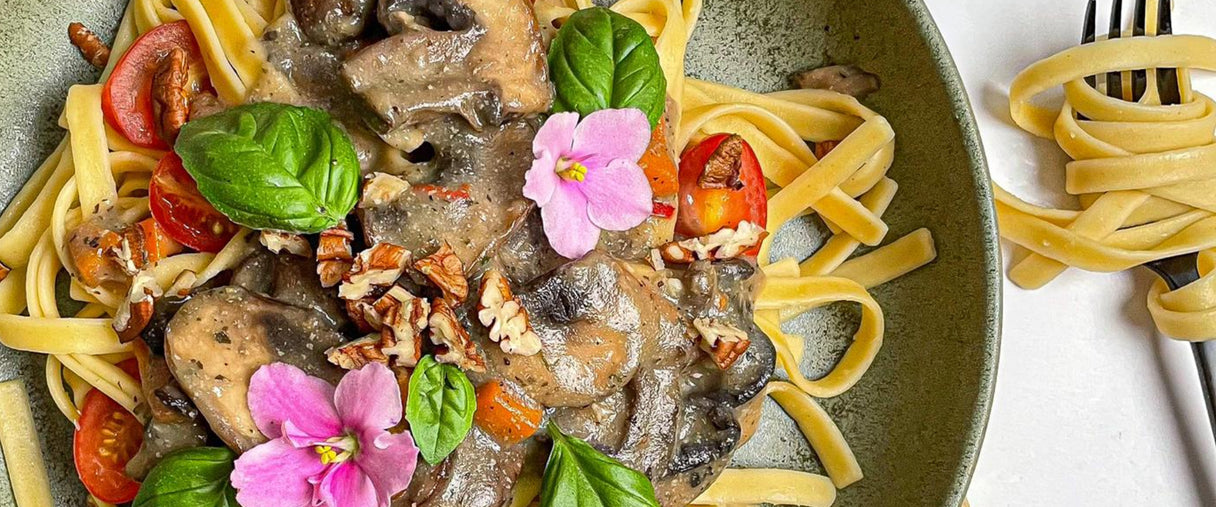 Fresh, healthy and hits the spot. The total time needed for this recipe is just 30 minutes, including prep and cook time - bliss! Perfect for a weeknight dinner.
We think you'll enjoy discovering our free dinner recipes, which are outrageously delicious and just happen to be vegan.
Ingredients
Serves 4 portions
1 onion 
4 cloves garlic 
1 chopped chilli
2 medium carrots 
500g portobello mushrooms/button mushrooms 
200g fresh cherry/plum tomatoes 
3tbsp rice flour 
2.5 cups or 600 ml vegetable stock
5 tbsp nutritional yeast which happens to be a great source of Vitamin B12, you may like to read '5 signs you may be low in Vitamin B12'.
6 tbsp low-sugar coconut yogurt 
500g pasta of choice
Salt (to taste) 
Pepper (to taste) 
Method 
On medium heat sauté finely chopped onion, garlic, and chili.  

Add chopped carrots and tomatoes followed by mushroom. Stir and cook until softened. 3. Then add rice flour and mix for 1-2 minutes before gradually adding the vegetable stock.  Keep stirring until the sauce starts to simmer. Simmer for 5-9 minutes, at this point the sauce  should start to thicken. 

Meanwhile, cook pasta according to package instructions.  

After the pasta sauce shows signs of thickening, add nutritional yeast followed by coconut  yogurt. Stir to combine. 

Season the sauce according to preference.  

Add the cooked pasta with the sauce and toss together. Serve as it is or garnish with basil  and crushed nuts. Bon appétit! 
Thank you to Couple of Chefz, follow them on Instagram at @couple_of_chefz or head to their website www.coupleofchefz.com for more delicious recipes! Remember to share your photos with us by tagging @drveganco on Instagram.
Discover our range of vegan vitamins and supplements.
Want to hear more from our nutritionists? Sign up to our email newsletter for insights and exclusive offers: