Gentle Iron & Vitamin C
30 capsules ▪︎ 1 a day
Plastic free & compostable pouch
Highly absorbable form
Frequently paired with...
What our customers say
Love this supplement, I'm anaemic so an iron and vit c supplement is really beneficial. Bonus is that it's plastic free and delivered on a subscription so I don'r forget.

Damaris
Was feeling a little tired, can have issues with low iron levels sometimes being on a plant based diet and consistently exercising 3-5 days a week. Been taking them for 2 weeks feeling back to normal.

Mark
I have tried so many Iron supplements over the last year and every one has upset my tummy. Someone recommended these and I am so pleased, I have noticed a difference within 3 days 😀

Sarah
Purchased Iron with vitamin c for anaemia, after only two weeks I have noticed an increase in energy levels and mood… with really quick delivery. Would highly recommend!

Mr Benmore
Excellent product and the customer service is superb. I will definitely buy these tablets again. Highly recommended.

Jill
Good service from a great company with great ethics

Briantiny
Dr Vegan products get the thumbs up from me. Well priced and top quality. Highly recommended.

Andrew
Easy to swallow capsules, getting the boost I needed, will be buying again

Angela
Loving these vitamins and their service! Their emails provide clear information about each one I've bought. Will continue to use them.

D.C.
Been taking for a few years very good product keeps me healthy.

Janice
Easy to take in capsule form, very gentle and effective.

Ms Pridding
Purchased iron as I'd noticed my 'time of the month' was lighter than usual. I only bought and took one month's supply, but after taking it, my next 'totm' was a lot healthier and back to my usual flow which I can only attribute to the supplements. I like how it's mixed with Vitamin C to support absorption.

Venetia
Good product, price, packaging and delivery. The free pill box is very handy.

Jennifer
Fantastic awesome amazing sunshine sunny skies all day.

Mrs Platt
Seems to be working well for me so far. Fingers crossed it continues this way.

Natalie
I've noticed I have a little bit more energy than I used to have so I think this product works well.

Abigail
Hard to find tablets with no bulking, additives or preservatives, so delighted when found Dr Vegan.

Ms Panayiotou
Hoping it increases my iron. Nicely packaged and easy to swallow.

Carolyn
Very efficient service and products are brilliant.

Coleen
10x
more absorbable when combined with Vitamin C, helping you conquer exhaustion and tiredness and regain vitality.
Why is Iron so important
Why take Gentle Iron & Vitamin C?

More effective natural iron
Optimal formula with vitamin C for improved iron absorption
A gentler form of iron - kind on the stomach, non-constipating
Helps support

Energy levels and reduces tiredness and fatigue
Brain function - Iron for cognitive function; Vitamin C for psychological function
Normal function of the immune system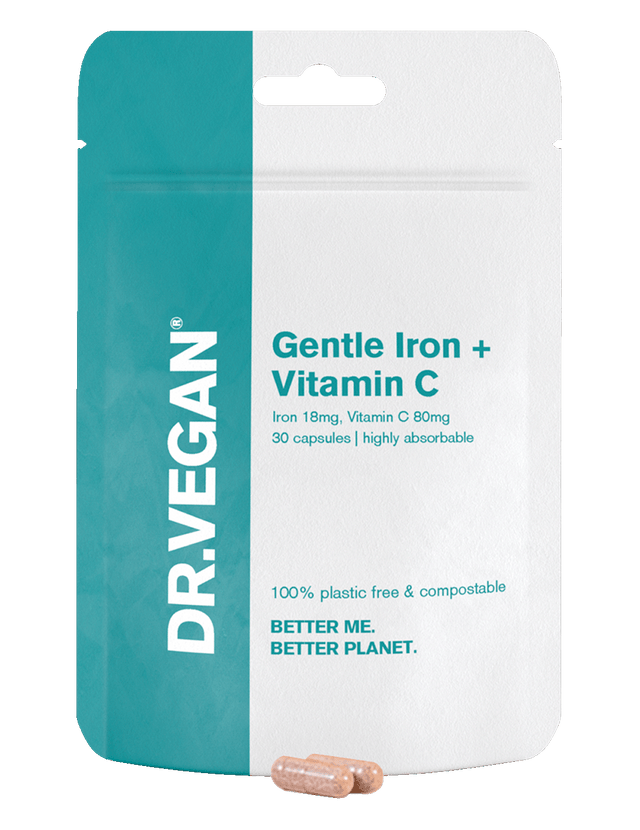 Questions? We have answers:
Can I take this with your Daily Multi-Vitamin?

Is DR.VEGAN® Gentle Iron & Vitamin C allergen free?

Do you provide free nutrition advice?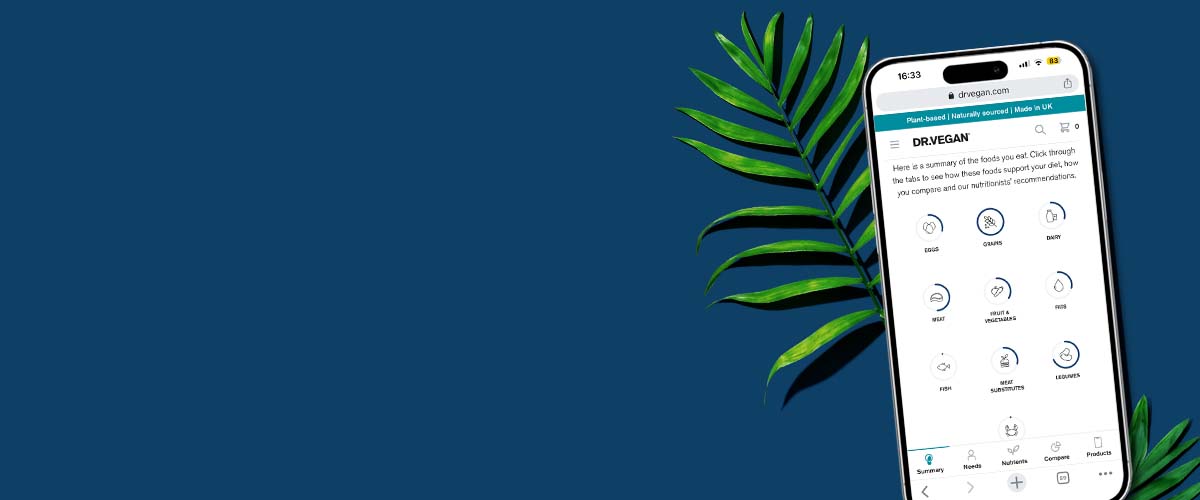 NOT SURE WHAT YOUR DIET IS MISSING?
Create your FREE Diet Profile today and discover the nutrients your body needs and what you may be missing.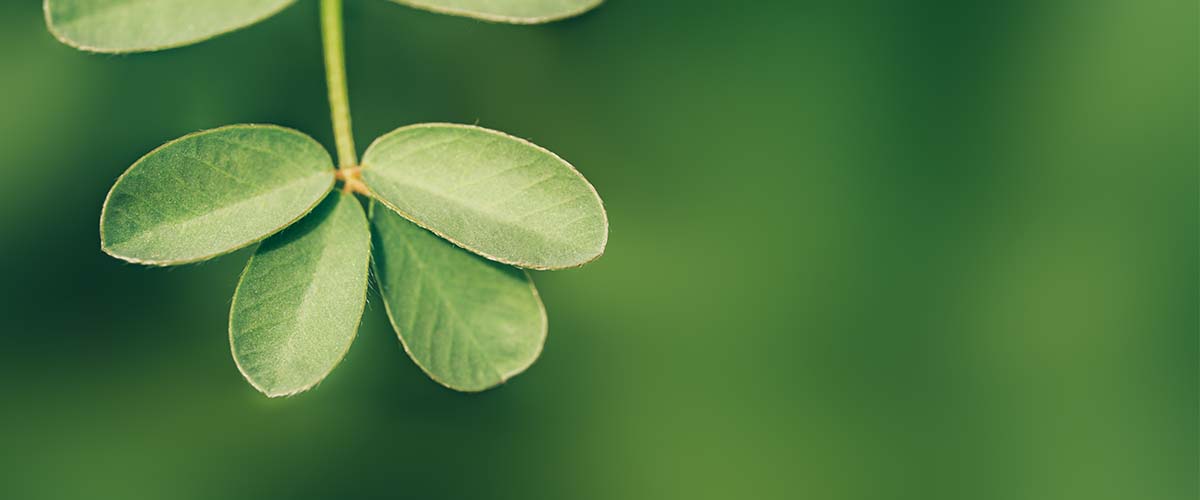 PLANET POSITIVE
All our products are plant-based, naturally sourced with zero nasty additives and certified home-compostable. By giving customers a sustainable, plastic-free supplement option, we've helped save over 15 tonnes of plastic from entering landfill.
Nutrition

| | PER CAPSULE | EC %NRV* |
| --- | --- | --- |
| Vitamin C | 80mg | 100 |
| Iron | 18mg | 129 |

* NRV - Nutrient Reference Value
** No NRV Established
Description

DR.VEGAN® Gentle Iron (18mg) with Vitamin C (80mg) is in an absorbable form (Ferrous Fumarate), ideal for those with sensitive stomachs or on plant-based diets.

Iron is required by your body for making haemoglobin, the oxygen-carrying protein in red blood cells. It is essential for a healthy immune system and maintaining normal energy levels. A deficiency of Iron can cause anaemia and could harm your cognitive function which includes concentration, thinking, reasoning, and perception. Because Iron is more easily absorbed by the body from meat sources, deficiency can be more common among those on plant-based diets and flexitarians reducing their meat consumption. Iron deficiency is also more common among women as a result of the menstrual cycle.

Iron is essential for your energy release. Low levels of Iron force your body to work harder to function normally which causes fatigue and can cause other symptoms such as irritability and trouble focusing.

We do not recommend taking our Gentle Iron & Vitamin C for additional Iron supplementation alongside our Daily Multi-Vitamin unless you have a diagnosed deficiency in Iron or you're advised to do so by your GP or a healthcare professional.

Food supplements should not be used as a substitute for a varied balanced diet and a healthy lifestyle.

If you are pregnant, breastfeeding, taking any medications or under medical supervision, please consult a doctor or healthcare professional before use. Discontinue use and consult a doctor if adverse reactions occur.
Ingredients

INGREDIENTS: Vitamin C (Ascorbic Acid), Iron (Ferrous Fumarate), Brown Rice Flour, Capsule Shell (HPMC, vegetable cellulose).

FREE FROM: Added Sugar, Starch, Sweeteners, Gluten, Wheat, Soya, Lactose, Dairy, Artificial Flavours, Colours and Preservatives.