Protein Parfait (Ve)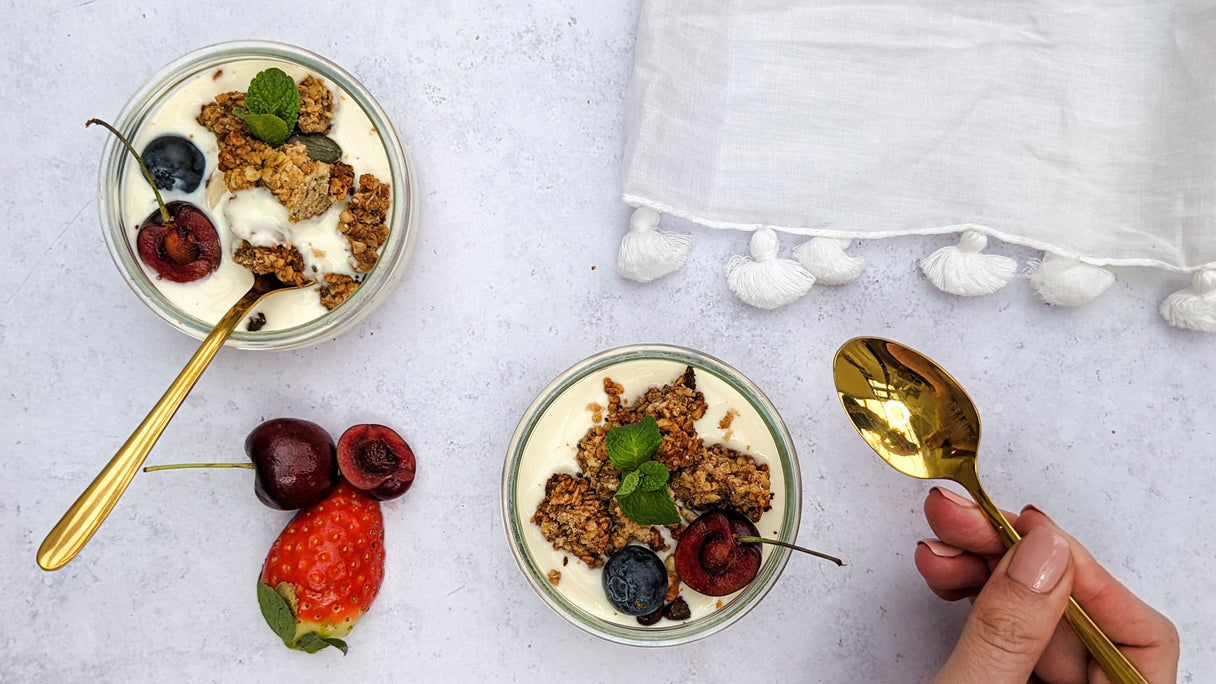 Packed with plant-based protein and topped with delicious berries, this impressive breakfast parfait will only take you under 10 minutes to prepare. 
This nutritious and easy recipe can be enjoyed at breakfast or a delightful healthy dessert. The best part is you can swap out any ingredient to suit your personal taste.
For protein, we have opted for soya yoghurt and included chia seeds. Did you know, half a cup of chia seeds provides 11g of protein and if you soak them in 1 cup of soya milk, it raises the protein content to 19g? You may like to read the about the best plant-based protein sources recommended by our team of nutritionists.
We recommend pairing this recipe with our Daily Multi-Vitamin to kickstart your day. Formulated to provide daily support for your energy, stronger immunity, healthier skin, hair and nails, improved digestion, mental performance and mood.
If you're looking to impress, we recommend making your own granola using our easy recipe and serving in small ramekins with extra fresh fruit on the side for that gourmet flair. 
Ingredients (serves 2 people)
300g plant-based yoghurt of your choice
150g granola (either buy or try making our granola bar recipe)
2 tsp chia seeds (also a great source of plant based Omega 3)
2 small ramekins
Cherries
Strawberries
Blueberries (source of B Vitamins)
Fresh mint leaves
Method
1) Begin by adding two heaped tablespoons of yoghurt to the base of your two ramekins.
2) Sprinkle a teaspoon of chia seeds into each ramekin on top of the yoghurt, followed by roughly half of your granola.
3) Add a layer of your washed and sliced fresh fruit.
4) Repeat the layering process again, using all the remaining yoghurt and granola.
4) Finish by topping with fresh fruit and mint. Enjoy!
If you enjoyed this recipe we think you'll like our Vegan Pancakes and Protein Parfait (Ve).
Want to hear more from our nutritionists? Sign up to our email newsletter for insights and exclusive offers: