Vegan Pancakes (Ve)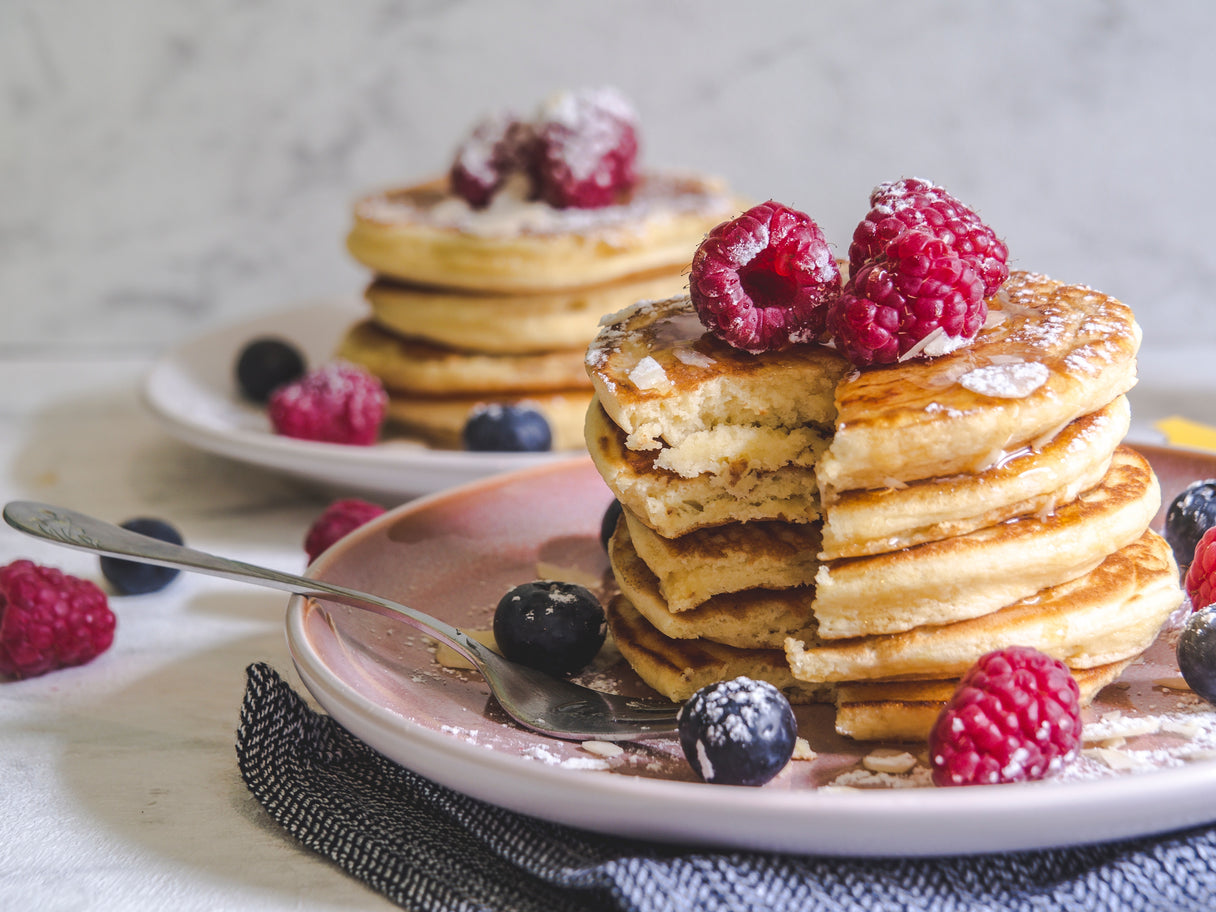 Pancakes can be vegan too! Pancakes are versatile and can be made full of protein, sweetness or even savoury. Decorate how you like and let your individuality flow. We love blueberries, bananas and yoghurt at DR.VEGAN® but you may top yours with whatever you like. These ones are medium thick and spongey, of course you may choose to add more milk and a splash of water if you prefer crepes. 
Ingredients
Makes 16 pancakes approximately.
300g self-raising flour

1 tsp baking powder

1 tbsp sugar (any kind)

1 tbsp vanilla extract

400ml plant-based milk (such as oat, almond or soya). Read our nutritionist's milk guide.

1 tbsp vegetable oil for cooking
Method
Use a balloon whisk to combine the flour, baking powder, sugar, vanilla extract and a pinch of salt in a bowl.

Slowly pour in the milk until you get a smooth, thick batter.

Heat a tiny bit of oil in a non-stick frying pan over medium-low heat, and add 2 tbsp batter into the pan at a time to make small, round pancakes. You will need to do this in batches of two-three at a time. Cook for 3-4 mins until the edges are set, and bubbles are appearing on the surface.

Flip the pancakes (the fun part!) over and cook for another 2-3 mins until golden on both sides and cooked through. Keep warm in a low oven while you cook the remaining pancakes. 

Serve stacked with lots of toppings of your choice, or serve with bowls of toppings for everyone to help themselves. 
 Enjoy! Pancakes are fun to eat as well as make. We think you may also like reading 5 foods to improve your mood, written by our nutritionists.
View our range of Vegan Vitamins & Supplements. 
Want to hear more from our nutritionists? Sign up to our email newsletter for insights and exclusive offers: