Baked Chilli Tofu with Kale and Noodles (Ve)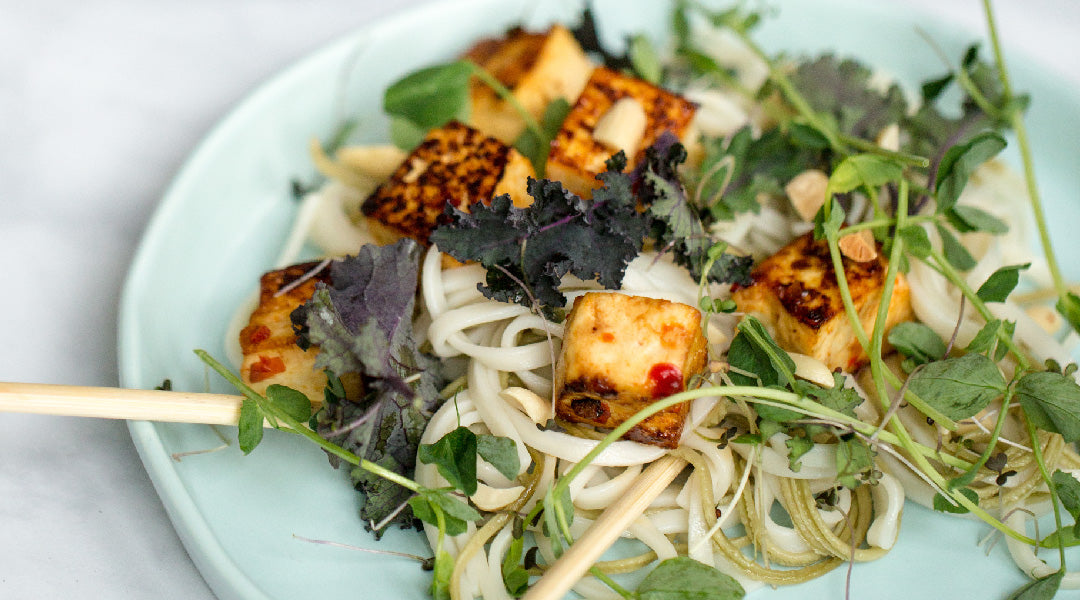 A zesty noodle dish with a sweet kick! Easy, vegan friendly and quick to make for those with a busy lifestyle. 
This dish is scientifically proven to enhance your mood... we're not joking. That's because kale contains the mood moderating, super-hero mineral Magnesium.

Those of us who get more Magnesium in our diet tend to be happier as Magnesium stimulates receptors of a calming hormone called GABA, and inhibits the stress hormone cortisol, thereby reducing feelings of anxiety and worry. To help you reach your daily Magnesium requirements, load up on greens, avocados, legumes, whole grains, dark chocolate or simply bridge nutritional gaps with a Magnesium supplement. 
Let's get cooking!
INGREDIENTS 
250g Tofu cut into 2cm slices 
1 tbs chilli jam 
1 tbs orange juice 
1 tbs sunflower oil 
100g noodles 
150g baby kale 
1 spring onion, finely sliced 
25g salted roasted peanuts, roughly chopped 
A recommended dressing: Ginger and Sesame dressing by Lucy's Dressings
Wedges of lime to serve 
METHOD 
Preheat the oven to 200 c. 

Place the chilli jam, orange juice and oil into a small bowl and mix to combine.

Place the tofu on a baking sheet lined with greaseproof paper and spoon over the chilli jam mix. Bake for 20 minutes or until golden brown.

Cook the noodles in a large saucepan of boiling water for 3 - 4 minutes or until al dente. Drain and refresh under cold water. 

Place the noodles, kale and spring onions in a large salad bowl and gently combine together with the dressing.

Divide between two bowls and top with the chilli tofu and peanuts and serve a wedge of lime.
Enjoy! Do let us know how you get on Instagram/Facebook @drveganco or join our community by clicking the image below and join the fun!
You may also like to try making: The best vegan pizza or Baked feta spinach pasta
-----
Recipe by the wonderful Lucy's Dressings in partnership with DR.VEGAN
View our range of Vegan Vitamins & Supplements. 
Want to hear more from our nutritionists? Sign up to our email newsletter for insights and exclusive offers: