Baked Feta Spinach Pasta (Ve)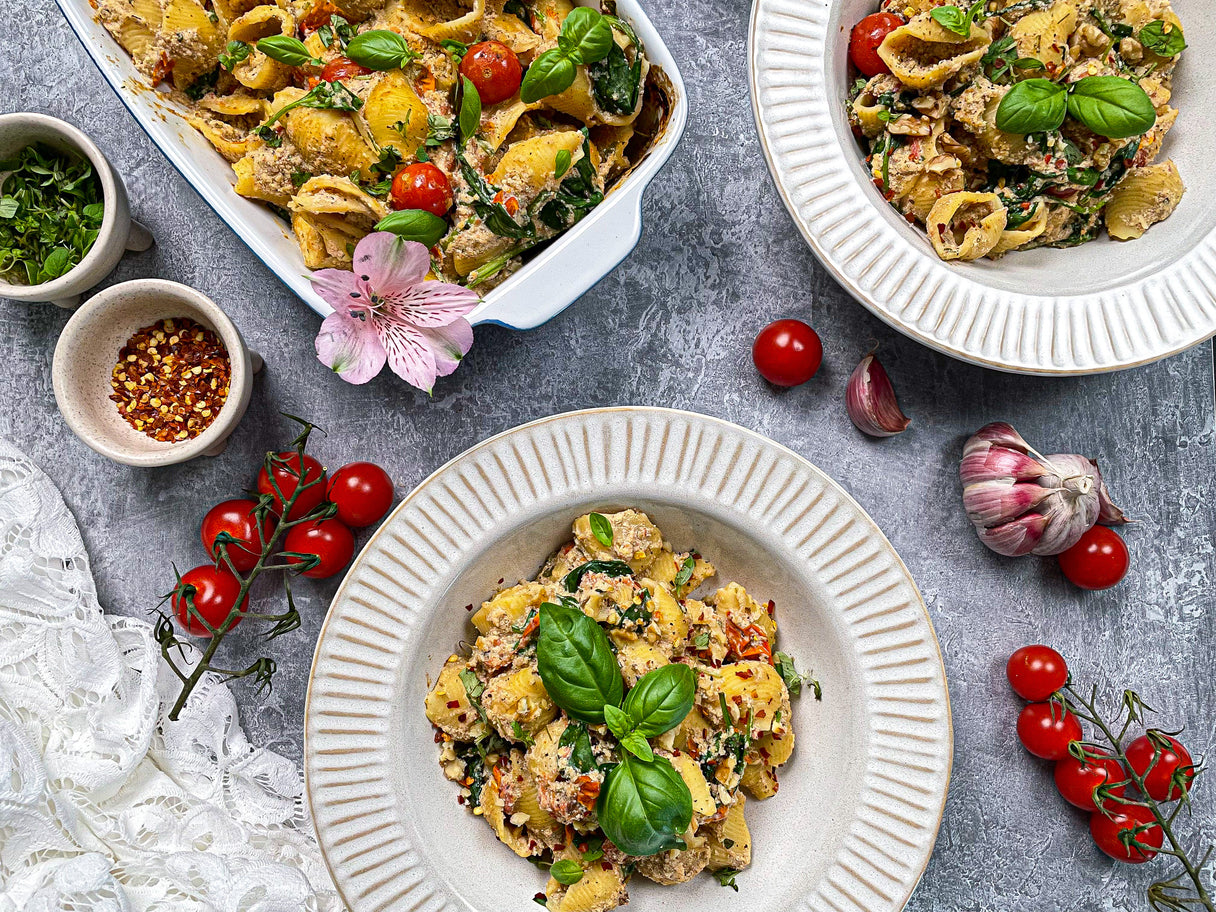 This vegan baked feta spinach pasta recipe, based on the viral TikTok trend, is very much worth the hype! A simple and quirky recipe.
This recipe was originally developed by Finnish blogger Jenni Häyrinen, and rumours say that grocery stores in Finland ran out of feta cheese during the hype. 
This dinner recipe is vegan friendly and can be simply made GF by using gluten-free pasta. As for how to make it more nutritious, we generously added spinach to add some greens to the recipe - a great source of Iron. 
If you like this recipe, you may also be interested to try vegan mushroom stroganoff!
Ingredients
Serves 4 portions
Tofu (250g)
Cashews (75g)
Nutritional yeast (2 tbsp)
Lemon juice (1 tsp)
Salt (1 tsp)
Garlic powder (1 tsp)
Olive oil (2 tbsp)
Cherry tomatoes (500g)
Spinach (200g)
Fresh oregano (1 bunch) chopped
Conchiglie pasta (250g)
Method

1. Add the tofu, cashews, nutritional yeast, lemon juice, garlic powder and salt into a high-speed blender or food processor. Blend until the ingredients are well combined. Scoop the vegan "feta" into the middle of the baking or casserole dish.
2. Add the cherry tomatoes into the baking dish. Add salt, pepper, and olive oil and mix well to combine.
3. Bake in a preheated oven at 200 C for 30 minutes until the tomatoes can be easily squished.
4. Meanwhile, cook and drain the pasta.
5. Squish the tomatoes with a fork and combine with the baked tofu mixture. Add the chopped oregano, followed by spinach and pasta.
6. Give all the ingredients a good mix until the pasta is well coated with sauce. Finish it off with some seasoning, basil leaves, or chilli flakes.

Extra tips
• Make this dish more filling by adding veggies of your choice. For example,
mushrooms, bell peppers, and onion are all perfect additions.
• This pasta is best fresh, so enjoy it immediately or store it in the fridge for up to 2 days.
Recipe by Couple of Chefz, follow them on instagram at @couple_of_chefz or head to their website www.coupleofchefz.com for more delicious recipes! Working in proud partnership with DR.VEGAN.
---
Want to receive our latest recipes, nutrition content and discounts in your inbox? Sign up to our email newsletter for insights and exclusive offers or follow us on Instagram & Facebook @drveganco: