Does Rosemary Oil help hair growth?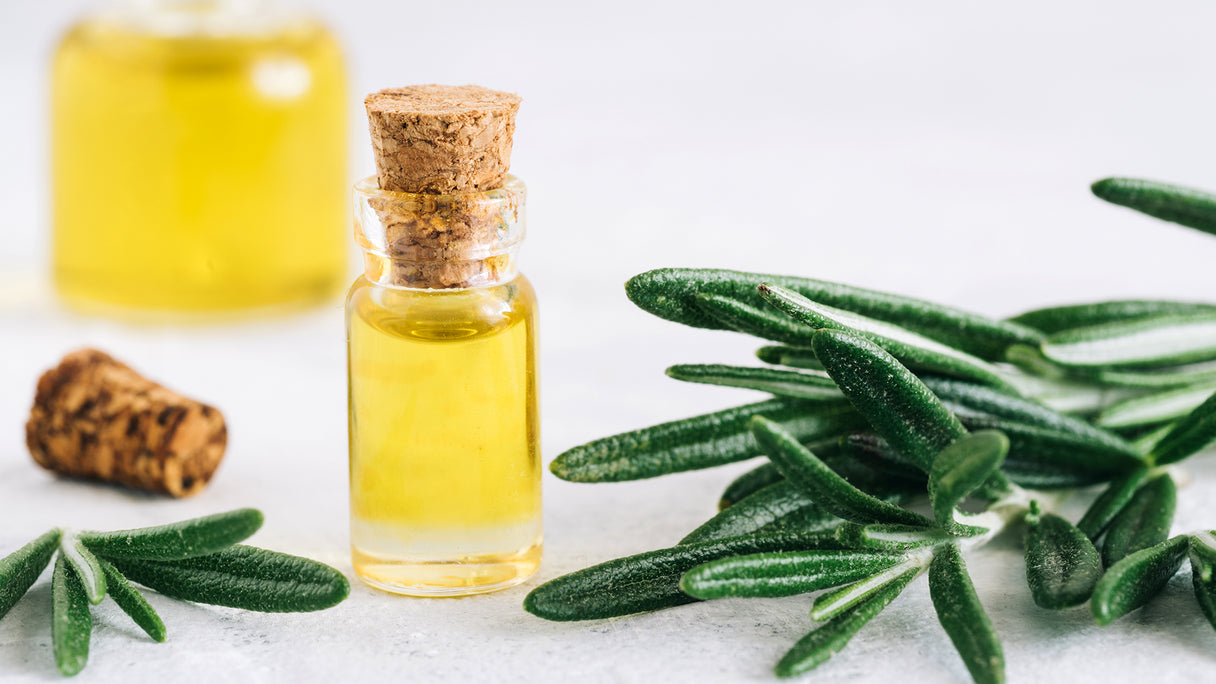 Have you seen Rosemary Oil on TikTok and Instagram? Whether you simply want long flowing locks, or you're living with hair thinning and hair loss, you may have come across lots of hype about Rosemary Oil. Well, we're here to explore whether Rosemary Oil actually works for hair growth and separate the facts from the fiction. Indeed, if you are seeking hair growth or thicker hair, our team explore alternative natural and affordable treatments that may help. 
You may also enjoy reading '5 key nutrients for healthy hair' and 'Best foods for hair loss & thinning'.
Not sure about your diet? Complete your free Diet Profile in 3 minutes. 
What is Rosemary Oil and where does it come from?
Rosemary is a woody plant native to the Mediterranean region. Though you may be familiar with Rosemary as a herb in cooking, particularly in making delicious roast potatoes, Rosemary is also used in beauty products, perfumes, as a medicinal herb, and more. 
Essential oils are highly concentrated and distilled extracts of plant compounds that can be used for health, cleaning, candles, cooking and, in this case, beauty products. 
Discover our delicious Roast Potatoes with Rosemary recipe.
What are the known health benefits of Rosemary?
The nutritional benefits of Rosemary include antioxidant and anti-inflammatory properties. Antioxidants are known to support the immune system and improve blood circulation. There is also scientific evidence to support Rosemary benefitting cognitive performance, your ability to concentrate and brain performance. There are a number of interesting ongoing studies into Rosemary Oil aromatherapy and its effects on dementia and Alzheimer's patients additionally.
Does Rosemary Oil prevent hair loss? 
'Androgenetic Alopecia' is the most common form of hair loss, also called 'male pattern baldness', despite many women also experiencing it too. Rosemary Oil is said to prevent a byproduct of testosterone called 'dihydrotestosterone' (DHT) from attacking hair follicles, which can otherwise lead to hair loss.
In a study on men suffering from hair loss in 2012, diluted Rosemary Oil was massaged into each participant's scalp twice a day for six months and the results showed the same increase in hair thickness as Rogaine, a common hair regrowth remedy, alongside less scalp itching. This study therefore provides some evidence that Rosemary Oil may promote hair growth for men with Androgenetic Alopecia. Reduced itching of the scalp is also important as scratching hair follicles can be damaging and disrupt the growth and production of new hair strands.
It's important to note that hormone changes in women, including during menopause, can also cause hair loss and skin conditions. 
Does Rosemary Oil promote hair growth? 
There is some evidence that Rosemary's benefits for blood circulation could enhance the blood supply to hair follicles. Enhanced blood circulation can prevent hair follicles dying off from lack of nutrient supply, and which can otherwise lead to hair loss. Some experts, such as Marnie Nussbaum, MD, FAAD, a board-certified dermatologist, believe this theory, and say Rosemary Oil is one of the most effective types of hair growth oils on the market.
If you're using Rosemary Oil, or any hair treatment, it's important to be patient when waiting for results. Social media can set unrealistic expectations of super-long hair within days, which is simply not the case! There is limited research on the time frames that Rosemary Oil takes for substantial hair growth, so it is important to consider other factors of a healthy lifestyle, including your diet, not smoking and taking plenty of exercise which can also affect hair growth.
What should you know before using Rosemary Oil?
It's important not to apply too much Rosemary Oil to the scalp. If you're worried it's taking a long time to work, it is not wise to apply more in an attempt to speed the process up. In fact, too much Rosemary Oil can cause scalp irritation.
Little is known about the impact of Rosemary Oil among women who are pregnant or breastfeeding, so it is wise to refrain from using it if pregnant or breastfeeding. We recommend reading our article 'A nutritionist recommended pregnancy diet guide' for further support.
Other treatments for hair growth support
The causes of hair loss and hair thinning are wide ranging. They include stress, genetics, hormones, medication, and immune conditions. Of course, some of these factors are more manageable than others.
Diet and hair growth
Diet is vitally important to ensure hair follicles are delivered the correct nutrients through the bloodstream. There are many foods to support hair strength and vitality. These foods include pumpkin seeds, tofu, wholegrains and kiwi fruit, and we recommend reading best foods for hair loss & thinning. 
AnaGain™ and 

Hair Saviour®

AnaGain™ is a plant-based ingredient, an organic pea sprout extract, worth looking out for as it is known to rebalance the hair life cycle. In a clinical study by the Mibelle Biochemistry Group involving AnaGain™, the proportion of active hair follicles to degenerating ones could be improved by 78% in 3 months. 

Hair Saviour® is a unique formula of clinically studied botanicals, vitamins and minerals for women and men to support healthy hair growth from within, and strong, smooth and lustrous hair. Driven by science and developed by experts, combining 14 ingredients including MSM, AnaGain™, Saw Palmetto, Silica, Alfalfa, Zinc and Biotin, Hair Saviour® is a nutrient-rich formula to combat dull, dry and brittle hair and fuel naturally strong hair every day. Learn more about why Hair Saviour® is so good.

View our range of award-winning vegan probiotics, vitamins and supplements.

Want to hear more from our nutritionists? Sign up to our free newsletter for expert tips and advice: