Spicy Vegetable Stir Fry (Ve)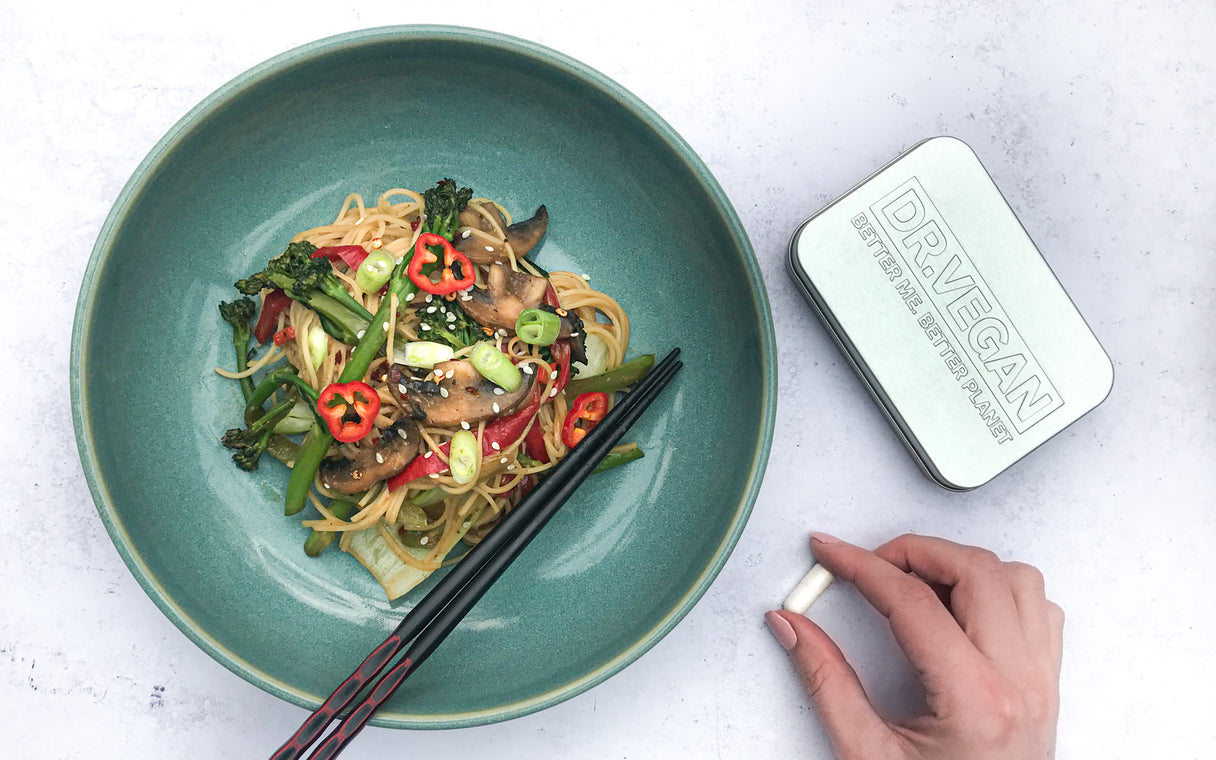 This stir fry is certainly not boring. It's outrageously delicious, just happens to be vegan.
Not only is this recipe delicious, but it's packed with plant-based Vitamin D from the mushrooms. Vitamin D is important for supporting various functions in our body. These include regulating our immune system, bone health and heart health. We also recommend taking our Vitamin D3 supplement alongside this dish to meet your daily nutritional requirement when the weather is less sunny.
The total time needed for this recipe is just 30 minutes, including prep and cook time. Perfect for a weeknight dinner!
Ingredients for the sauce
1 tbsp white miso paste
1 tbsp smooth peanut butter 
1 tbsp sesame oil
1 clove finely chopped or crushed garlic
1/2 tsp dark soy sauce
1/2 tbsp maple syrup or agave, if you're not vegan you may use honey.
Ingredients to stir fry
Noodles of choice for 2 people (according to packet instructions)

A handful of shiitake mushrooms, washed

1 pak choi, washed

5 florets of tender stem broccoli, washed

2 handfuls of spinach, washed

Sprinkle of sesame seeds 
Chopped spring onion 
Chilli flakes and or chopped red chilli pepper
Method
1. Make the sauce by mixing all the ingredients together in a large bowl. That's it, really. Give it a taste and adjust as you wish depending on how spicy you like it.
2.  Fill a small saucepan with water and put on high heat. Boil the noodles until soft, this can differ but is usually 3 minutes. Do check your package instructions.
3. Heat your wok on medium-high heat and sauté your vegetables whilst the noodles are cooking.
4. When the noodles are soft, or al dente depending on your preference, drain the water away and combine with the sauce, stirring through well. 
5. When the vegetables have softened, particularly the broccoli stems, take off the heat and combine with the noodle and sauce mix.
6. Serve with a sprinkle of salt and optional sesame seeds, chopped spring onion, chilli flakes and red chilli pepper.
7. Grab your chopsticks and enjoy! Vitamin D3 is recommended to be taken with food, so take this opportunity to remember to take your vitamins.
We think you'll also enjoy making our Thai Green Curry and Miso Glazed Aubergine, Mushroom & Tofu Bowl.
Want to hear more from our nutritionists? Sign up to our email newsletter for insights and exclusive offers: