Miso Glazed Aubergine, Mushroom & Tofu Bowl (Ve)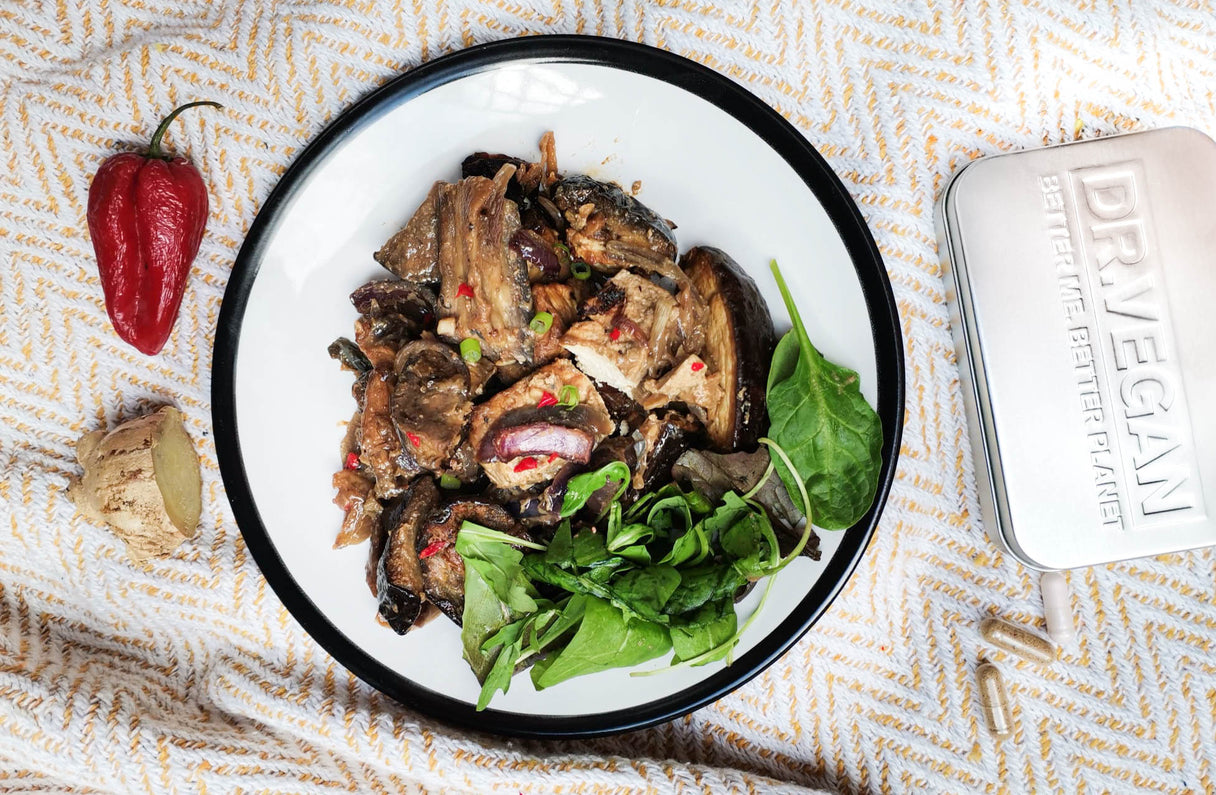 This miso-glazed aubergine, mushroom and tofu dish is healthy and packed full of umami-flavours. Both sweet and savoury with ginger, sesame and chilli packing a punch.
An easy, super-tasty vegan dinner that the whole family will love, perfect for any night of the week. 
Cooking aubergine so it is not oily is a skill and we're here to help. Adding miso provides a umami element as well as the health benefit of protein. Here we've used white miso, though there are other varieties of miso, it is versatile and provides fantastic flavour to transform dishes into a taste sensation.
This dish is outrageously delicious and just happens to be vegan.
If you enjoy it, we think you'll also like our Aubergine and Potato Massamam Curry and 3 Ingredient Jerk Cauliflower.
Ingredients:
2 Aubergines, halved and cut into strips

250g extra firm tofu, drained and cut into strips 

250g mushroom, sliced

1 red onion, thinly sliced
For the miso glaze:
1 tsp fresh ginger, grated or minced

2 cloves garlic, grated

3 tbsp miso paste

Optional 1 tbsp honey or agave for vegans

2 tbsp soy sauce

2 tbsp sesame oil

2 tbsp vegetable oil

1 tbsp hot water

½ red chilli, deseeded and finely chopped 

Juice of half a lime
Method:
Pre heat the oven to

200ºC / 400ºF.

Place the aubergine, tofu, mushrooms and red onion into a baking tray. Drizzle with some olive oil. 

Put the miso paste in a bowl with the fresh ginger, garlic, honey, soy sauce, sesame oil, vegetable soil, hot water, chilli and lime juice, then mix everything together well. 

Spoon the glaze mixture on top of everything in the baking tray, tossing the ingredients and making sure that it is well marinated. Making sure both sides of the vegetables are coated. 

Place the tray in the oven and roast for 30-40 minutes, tossing halfway through. 
We like ours served with white rice or noodles and a green side salad. Do send us a photo of yours by tagging @drveganco on facebook and instagram. Enjoy! 
Discover our range of vegan probiotics, vitamins and supplements. 
Want to hear more from our nutritionists?  Sign up to our newsletter for more tips and advice: