Aubergine and Potato Massaman Curry (Ve)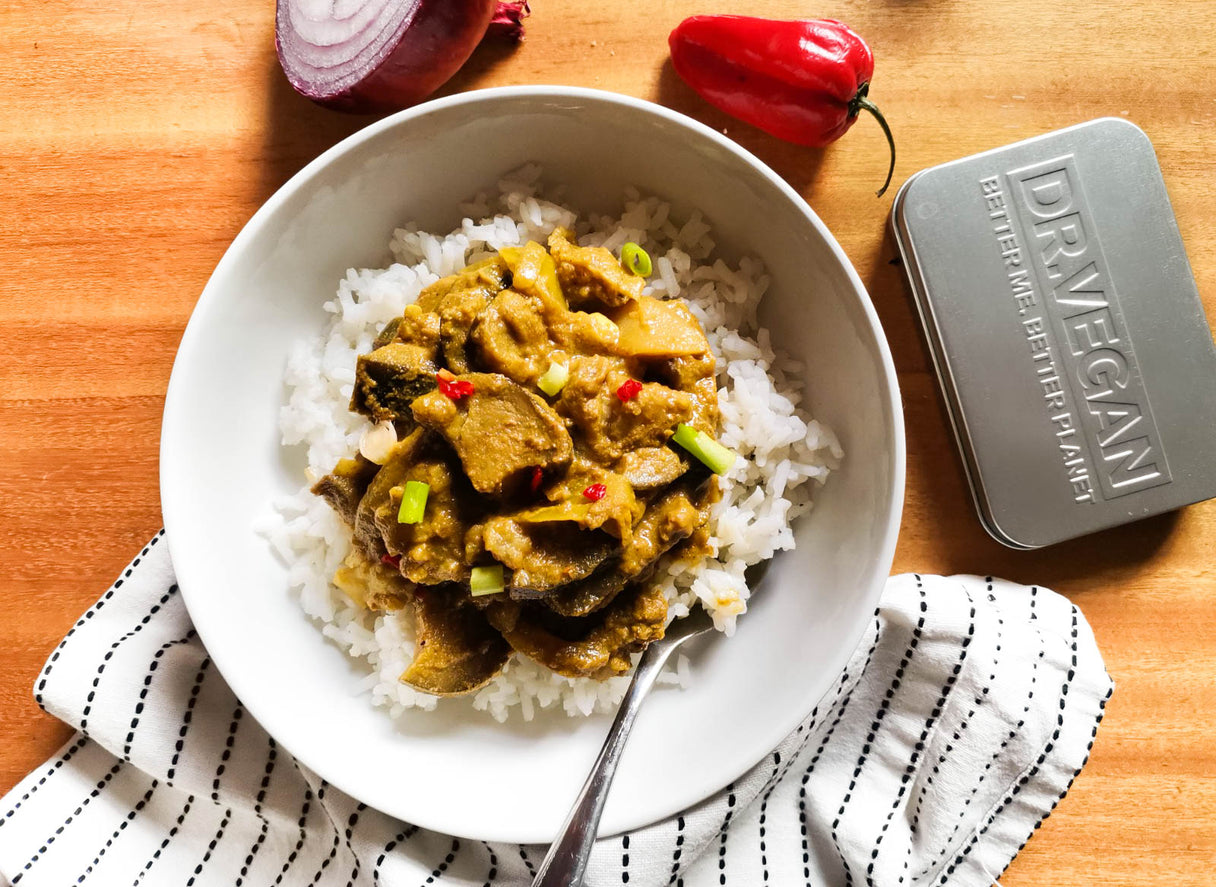 This curry is always a crowd pleaser and it just happens to be vegan too! Massaman Curry is inspired by both Thai and Indian cuisine and is known to be aromatic and mild.
This dish includes aubergine which are a fantastic source of fibre as well as magnesium and manganese. Manganese is a nutrient not often in the spotlight but it is brilliant for supporting bone health and reducing blood sugar. 
This dish is suitable for all diets however it does contain nuts as we've added peanut butter for richness.
Ingredients:
For the curry paste: 
1 tbsp fresh ginger, minced

1 red chili, sliced 

2 tsp ground cumin

1 tsp ground cinnamon

½ tsp ground nutmeg

½  tsp ground cloves 

½ tsp ground turmeric 

2 tbsp lime juice 

2 tsp sugar

1 tsp salt 

4 tbsp smooth peanut butter

50g fresh coriander 
For the curry:
3 garlic cloves, peeled and chopped

3 shallots, peeled and chopped

400ml Coconut Milk

400ml Vegetable Stock

2 Aubergines, cut into small chunks

800g potatoes, peeled and cut into small chunks
Method:
Add the ingredients for the paste into a blender and add 100ml of water, blitz until smooth.

Add some oil to a large wide bottomed non-stick pan over low heat. Add the garlic and shallots and fry for 3 minutes. Add the paste into the pan and cook for a further five minutes, stirring occasionally, until it's gotten slightly darker. Turn the heat up to medium and add in the stock slowly and continue to stir.

Add the aubergine and potato and stir to coat. Cook for 2 minutes. Then add the coconut milk. The liquid should cover all the ingredients, if it doesn't add in some more coconut milk or water. Bring to a boil then lower to a simmer and cover the pan, cook for 15-20 minutes until potato is soft. 

To serve place the curry into a bowl, add some chopped coriander leaves on top and serve with plain rice.  
If you enjoyed this recipe we think you'll like our 3 Ingredient Jerk Cauliflower and Berry Fitness Bars. 
Discover our range of vegan vitamins and supplements.  
Want to stay connected? 
Want to hear more from our nutritionists? Sign up to our email newsletter for insights and exclusive offers: