Simple Berry Fitness Bars (Ve)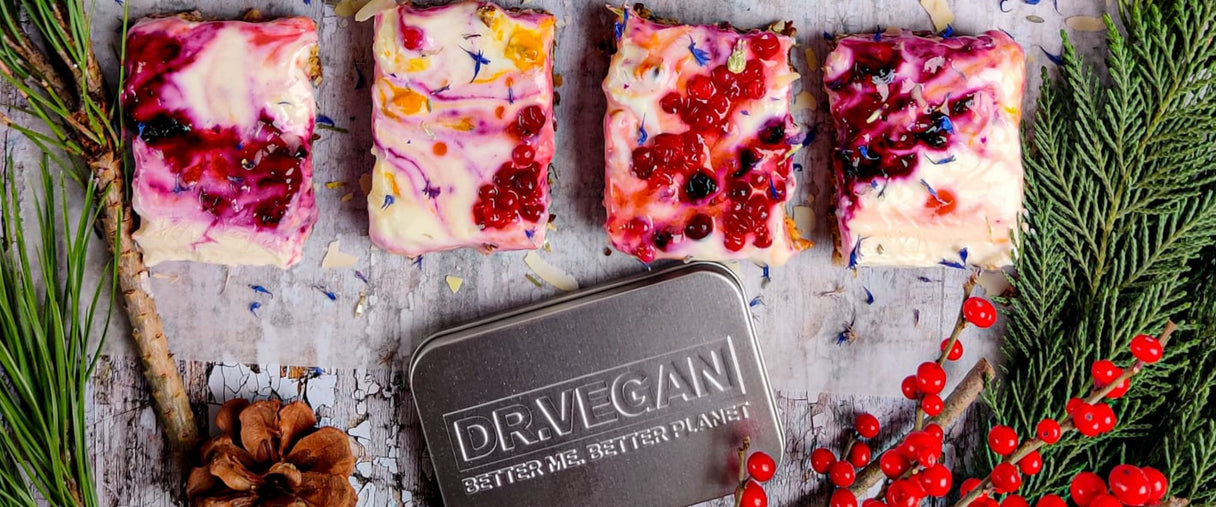 Many of us have a love-hate relationship with snacks and snacking. Replacing cravings for crisps, chocolate, and other munchies with one healthy snack at a time is a great goal to have.
This frozen yogurt fitness bar is a must try recipe for those who:
• prefer healthy snacks
• like to grab a bite before a workout
• want a quick bite for breakfast.
This is a fast and simple recipe to make and we recommend storing some in the freezer and heating up in the microwave for around 60 seconds when needed. 
These yogurt bars are full of nutritious ingredients, contain no added sugar and are plant-based.
Ingredients
Makes 24 medium sized bars
4 cups or 260g rolled oats
2 cups or 450g dried dates 
1/2 cup or 30g flaxseed
15g almond flakes 
15g pecans
2 tsp ground cinnamon
20g molasses 
2 cups or 500g almond butter or nut-butter of choice.
3 cups or 710g plain unsweetened yogurt of choice
2 cups or 330g frozen berries 
Method
1. In a food processor, combine dates, rolled oats, flaxseeds, almond flakes, pecan nuts, cinnamon with the coconut almond butter and molasses. You can also combine these ingredients by hand in a mixing bowl, though more time will be required.
2. Once combined, spread out this mixture in a tray lined with parchment paper. Spread this mixture out evenly and press it down with a fork or spoon to form an even layer.
3. On medium high heat, thaw the frozen berries. Lightly press down the berries while thawing for the berry juice.
4. Spread an even layer of yogurt on top of the previously made base.
5. Spread the thawed berries on top of the yogurt. Swirl the berries with a knife.
6. Place the tray in the freezer and allow the frozen yogurt bars to chill for at least 2 hours.
7. After chilling, cut into bars of desired size. Allow them to thaw for 5-10 minutes and enjoy your health snack!
Recipe by @couple_of_chefz www.coupleofchefz.com in proud partnership.
View our range of Vegan Vitamins & Supplements.
Want to hear more from our nutritionists? Sign up to our email newsletter for insights and exclusive offers: