Exotic Fruit Oatmeal (Ve)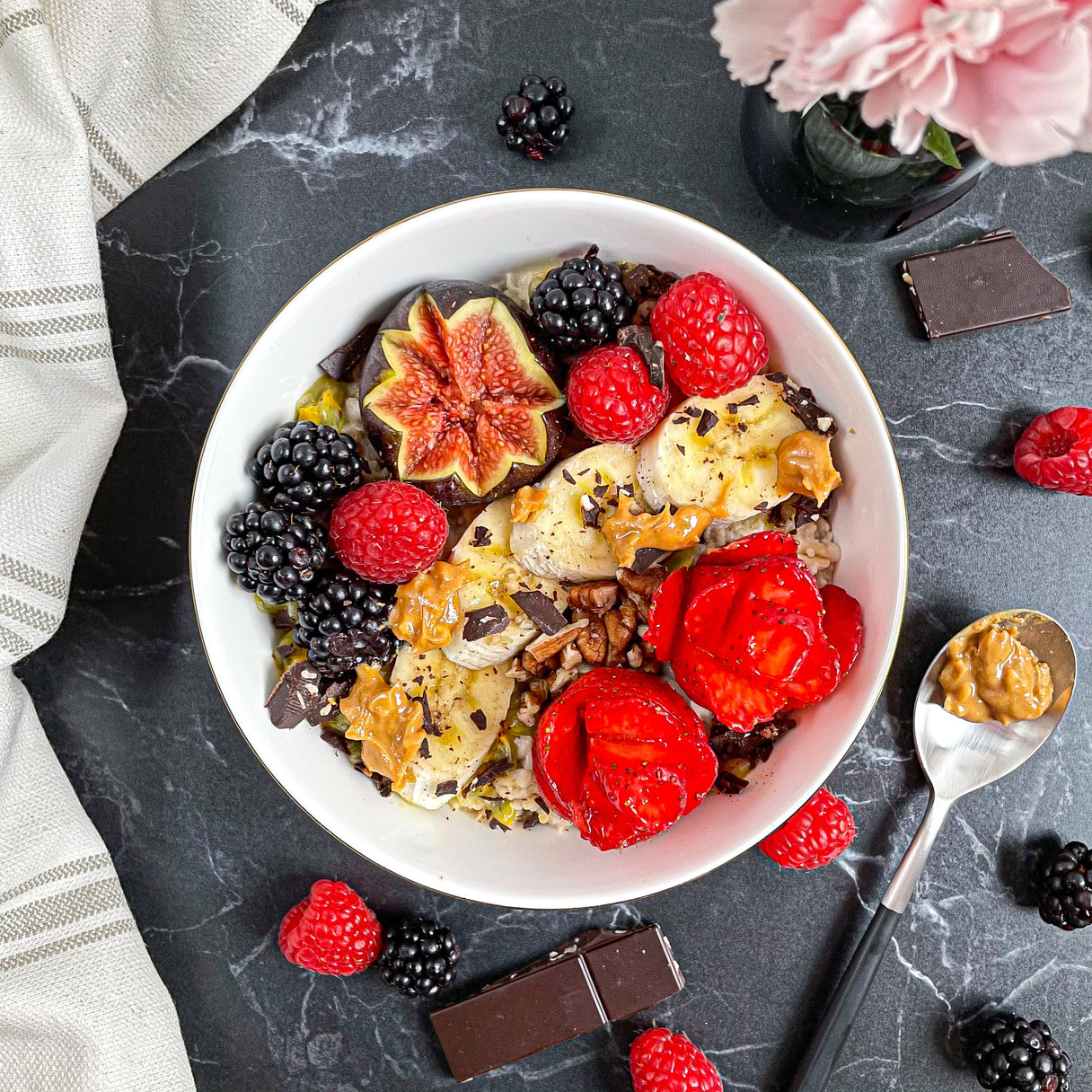 We wanted something more flavourful and out of the ordinary, and this recipe is exactly that! 

Oatmeal/Porridge bowls are a very popular breakfast choice all year long. And it's no surprise considering they're filling, healthy, warm, and delicious. Oatmeal bowls are a regular in in busy households when you need a 5 minute fix.

This recipe can be more expensive depending on which fresh fruit you choose and of course, depending on where you are located in the world. Feel free to substitute fresh berries with frozen ones or with local fruits of choice.  Either way, enjoy these rich flavours and we promise that this oatmeal recipe will be an exotic experience!
Ingredients  
Oats (1/2 cup) 
Almond milk (1 cup) 
Flax seeds (1 tsp)
Pumpkin seeds (1 tsp) 
Raspberries  
Strawberries 
Blackberries  
Fig (1)  
Passion fruit (1) 
Banana (1/2) 
Chopped pecans  
Chocolate shavings 
Method 
Cook the oats according to package instructions. We usually opt for the saucepan method rather than the microwave for a better consistency.

Afterwards, add flax and pumpkin seeds and mix to combine.

Top the bowl with passion fruit and other chopped fruits.

Garnish with chocolate shavings and peanut butter.
If you enjoyed this recipe we think you'd like: Vegan Pancakes

Full credit to Couple of Chefz, follow them on instagram at @couple_of_chefz or head to their website www.coupleofchefz.com for more delicious recipes! Working in proud partnership with DR.VEGAN.
Discover our range of vegan vitamins and supplements.
Want to stay connected? 
Want to hear more from our nutritionists? Sign up to our email newsletter for insights and exclusive offers: