Beetroot Hummus (Ve)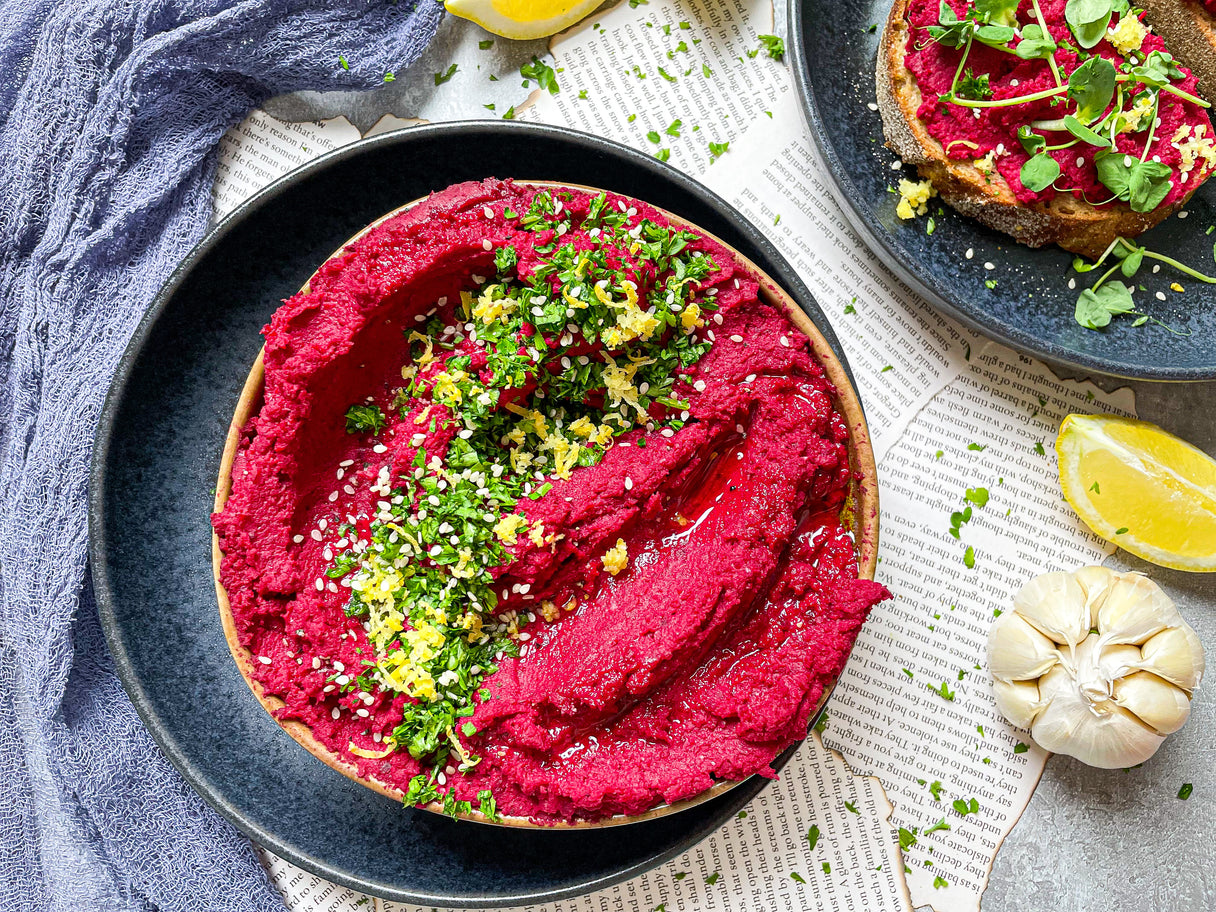 Pair this vegan friendly beetroot hummus with toast or crackers, or with wraps or veggie dip,  you won't be disappointed. If you're not already prepared to make a giant batch of  this delicious hummus, wait till you hear the health benefits...
Adding a healthy portion of hummus to your diet can be beneficial in multiple ways. Hummus contains plant-based protein, Iron, and B vitamins, all which are crucial nutrients.
Fibre rich chickpeas have also shown to be beneficial for gut health. Fibre rich foods are recommended for maintaining a regular digestive tract and may even help promote healthy gut bacteria. 
The list of benefits of hummus is truly long. Chickpeas and tahini (a paste made from sesame seeds) are a good source of calcium. Maintaining good calcium level is important for bone health and has also been linked to relief from PMS symptoms. And while hummus checks many of the boxes for PMS relief, be careful to not add too much salt. 
Swap out your regular, not-so-healthy dip choice for this bright pink hummus today. 
With a prep time of 30 minutes and a cook time of 10 minutes, this recipe will  be ready in around 40 minutes. 
Ingredients  
Serves 10 portions 
Chickpeas (460g) drained & cooked 
Beetroot (4) peeled & roasted  
Tahini (3 tbsp) 
Garlic (4 cloves) 
Lemon (1 large) zested & juiced 
Salt (1 tsp) 
Cumin powder (1 tsp) 
Olive oil (60 ml or 1/4 cup)
Method 
Preheat your oven to 225 C. 

Wash, peel and slice your beetroot into chunks. Place the beetroot slices onto a  parchment lined baking tray. Drizzle over with olive oil and add salt and pepper to taste. 3. Cook until soft for 30 minutes. 

In a food processor add cooked beets, chickpeas, garlic cloves, tahini, lemon zest and  lemon juice and blend until smooth. 

Give the ingredients an occasional mix and blend until smooth. Season with salt and  cumin. 

Drizzle in the olive oil while the hummus is blending. Taste and adjust for seasoning and add extra olive oil if necessary. If the mixture is too dry, you can try adding small  amounts of water. 

Garnish with chopped fresh herbs, lemon zest and other garnishes of your choice. Feel  free to experiment with a variety of garnishes! 

Enjoy!
Tips 
You can blend the hummus for longer for a creamier consistency or possibly add more  tahini. 

You can store the hummus in the fridge up to a week. If it seems too dry, add small  amounts of water or olive oil.
-----
Recipe by the wonderful Couple of Chefz www.coupleofchefz.com @coupleofchefz in proud partnership with DR.VEGAN
If you enjoyed this recipe, we recommend: The Best Vegan Pizza
Discover our range of sustainable vitamins and supplements
Want to hear more from our nutritionists? Sign up to our email newsletter for insights and exclusive offers: