Superfood Salad (Ve)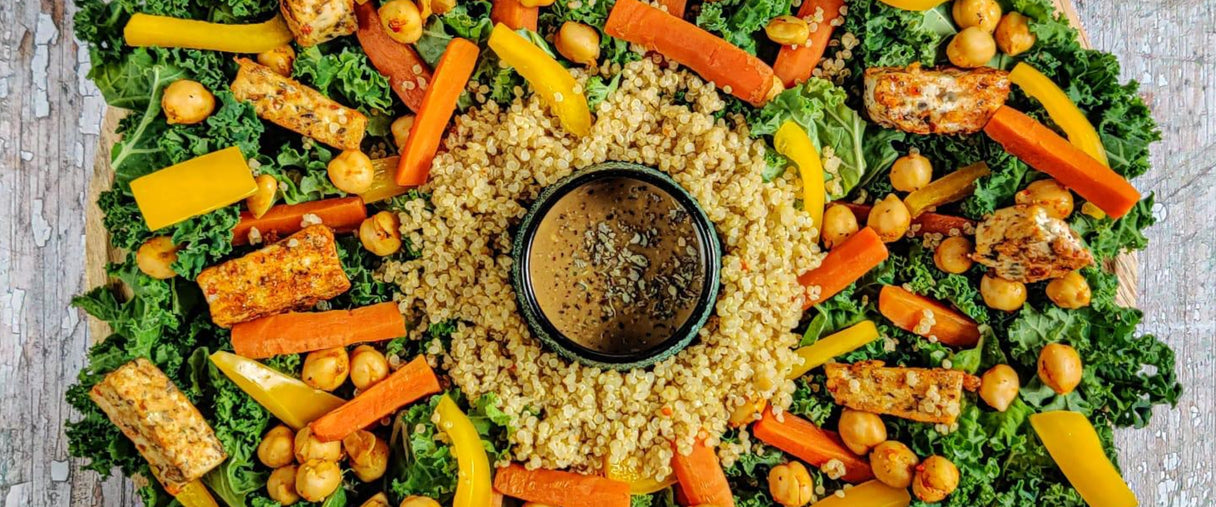 Today we're sharing a recipe that is great for supporting energy levels and gut health. A lunch recipe you can look forward to and prepare at the weekend so you're ready for the week ahead. This vegan meal prep is absolutely delicious and nutritious.
Kale
Perfect for meal prep since it does not get soggy easily and is packed with Vitamins A, K, C, B6.  Kale also contains a type of sugar called sulfoquinovose, which feeds the good bacteria living in your gut.
Carrots
A great source of Vitamin A, fibre and antioxidants.  
Quinoa
A great fibre source for digestive health, and can be helpful for blood sugar control. You may also like to read 'symptoms of high and low blood sugar' written by our nutrition team.
Tofu and chickpeas
The protein sources for this wholesome meal. 
Drizzle a salad dressing  of your choice and bon appetit!
Ingredients (4 portions) 
Kale (100g) 
Bell pepper (1), colour of your choice
Carrots (2 medium or 4 small)  
Chickpeas (230g) 
Tofu (250g) 
Cornstarch (1 tbsp) 
Quinoa (1 cup) 
Olive oil (1 tsp) 
Vegetable stock (1 ¾ cup) 
Method 
Place the quinoa in a strainer and rinse under cold water. In a saucepan heat the olive oil  on medium heat before adding the quinoa and toasting it for 1 minute.  

Add the vegetable broth to the saucepan and bring to a boil. Lower the heat settings,  cover, and cook for 15 minutes. 

Remove the pot from heat and let it stand for 5 minutes. Quinoa will be fluffy and ready!  4. Drain and rinse canned chickpeas before cooking them in water for 15-20 minutes with  oil and seasoning of choice. 

Meanwhile, chop the kale and slice the bell pepper and the carrots.  

Boil the carrots for 5-7 minutes until soft.  

Drain the excess water from tofu packaging and dice it into small cubes. Toss the tofu in  cornstarch, pinch of salt, and spices of choice.  

Sauté in oil over medium heat until each side is perfectly golden brown. 

Toss all the ingredients into a mixing bowl and thoroughly mix before packing into lunchboxes.
Store in the fridge until consumed.
Enjoy!
Recipe by @couple_of_chefz / www.coupleofchefz.com in proud partnership with DR.VEGAN
Discover our range of vegan vitamins and supplements.   
Want to hear more from our nutritionists? Sign up to our email newsletter for insights and exclusive offers: