Ratatouille (Ve)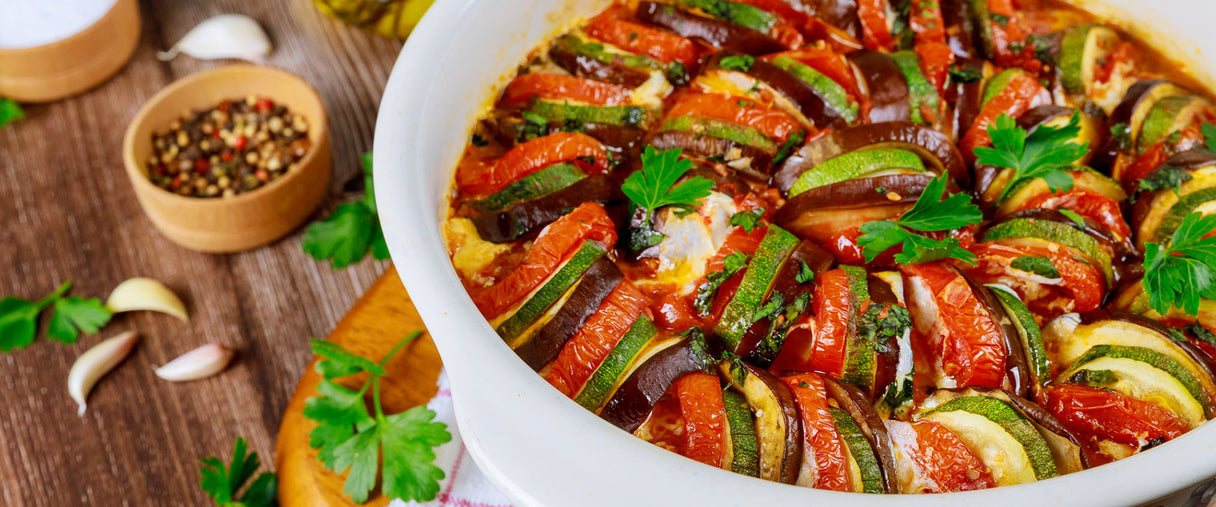 Full of nutrients and delicious vegetables, where aubergines, courgettes and tomatoes are the star attractions. This vegan-friendly recipe is perfect for family meals as well as dinner parties where you may have to cater for different dietary requirements at the dining table. You'll be pleased to know it's an easy recipe that takes an hour and 15 mins. 
Aubergines, or eggplant, are a rich food source of Manganese and Vitamin C, which supports healthy skin. If you're looking for glowing skin, and a natural way to fuel collagen production, discover Skin Saviour® supplements today formulated by a team of expert nutritionists.
Another key ingredient in our Ratatouille recipe is courgettes. Courgettes contain a mineral called Potassium which supports the building and repairing of muscles. We think you may also enjoy reading 'Best protein sources on a plant-based diet' and 'How do I know if I'm deficient in Magnesium?'.
Ingredients (serves 4 adults)
1 regular onion, chopped
4 garlic cloves, crushed 
520ml/17.6oz passata
2 tbsp tomato paste 
1 courgette, thinly sliced
1 aubergine, thinly sliced
4 large fresh tomatoes, thinly sliced
Oregano (as much as you like!)
Fresh basil leaves for garnish
Method
1. Set the oven to 200 degrees celsius.  
2. Now, let's get cracking with the tomato sauce. Get your ovenproof frying pan or skillet out on the hob, medium heat, and add a swizzle of olive oil to the pan.
3. Add the chopped onion and crushed garlic until see-through. 
4. Add the tomato paste and passata, and keep stirring, season as you go with salt and oregano to your taste. Cover and let the taste fuse and mingle with one another. 
5. After 5 minutes, pour the tomato sauce into your desired baking dish, traditionally round. Then arrange the courgette, aubergine and tomatoes to your liking. Traditionally it is in a circle shape. 
6. Drizzle some olive oil over the top alongside a sprinkle of more seasoning. You can add cheese/vegan alternative cheese if you want to as well. 
7. Place foil over the dish, or add a lid, and bake in the oven for 30 mins.
Whilst you wait, we think you'll enjoy reading '7 best foods to help you debloat'.
8. After 30 mins has passed, take off the foil/lid and cook for another 10-15 mins. You again may want to add cheese at this point. If the vegetables look dry you can add a little more olive oil, although they shouldn't be dry to the steam of the tomato sauce.
9. Take your ratatouille out of the oven and garnish with some beautiful fresh basil... and dig in! 
View our range of vegan vitamins and supplements
Want to hear more from our nutritionists? Sign up to our email newsletter for insights and exclusive offers: