Vegan Gingerbread Cookies (Ve)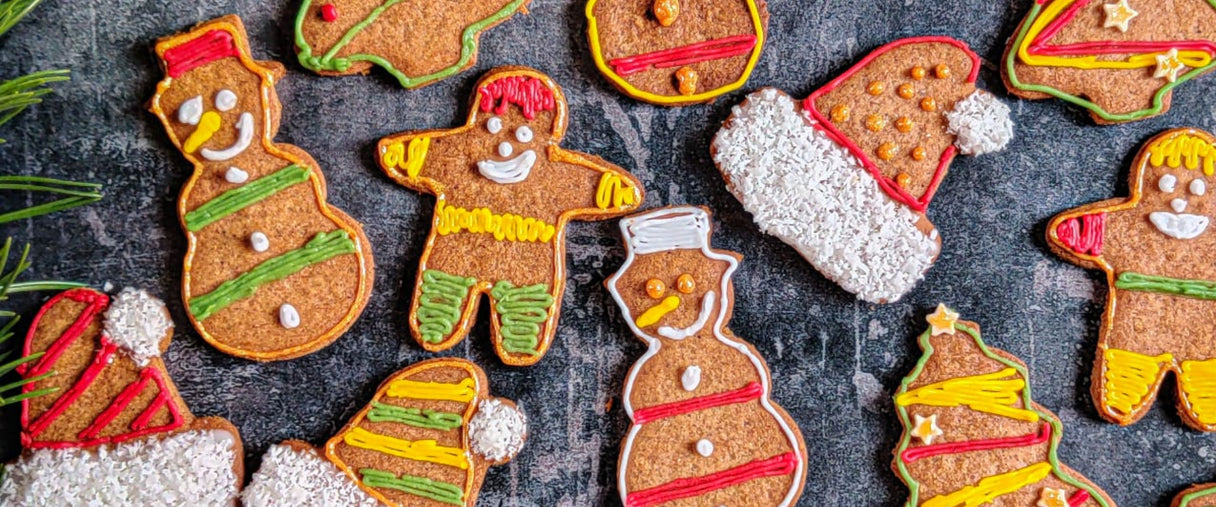 If you're going to bake why not pack a punch with some ginger? These vegan gingerbread cookies have got you covered.
While cooking or baking for the whole family during the holidays can be challenging, it can get even more complicated if there are special diets to be accommodated. However, this holiday stress can easily be bypassed by having some delicious recipes up your sleeve. In fact, what's better than inclusive recipes without compromising your taste buds one bit?
Ingredients
Vegan butter (180 g)
Maple syrup (100 g)
Brown sugar (2/3 cup)
Molasses (100 g)
Ginger (2 tsp)
Allspice (1/2 tsp)
Ground cloves (1/4 tsp)
Cinnamon (3 1⁄2 tsp)
Baking soda (3/4 tsp)
All-purpose flour (3 cups + few tsp for flouring surface)
Note: We used organic butter as it was easily available for us, some other vegan butters you could use are as follows: Vitalite, Naturli vegan butter.
Method
1. In a saucepan over low-medium heat, place the sugar, molasses, syrup, and butter. Stir to combine the mixture and remove from heat after the ingredients have melted and combined.
2. Add the spices (ginger, cloves, all-spice and cinnamon) along with baking soda. Give the ingredients a mix.
3. Add the flour and mix well to combine the wet ingredients with the flour. In case the flour is too dry, feel free to add a small bit of molasses or soy milk.
4. Wrap the dough with clingfilm and refrigerate for 2 hours.
5. On a lightly floured surface, divide the dough and knead them into balls. Roll the dough out according to how thick you want the cookies to be.
6. Cut out shapes with a cookie cutter and use the scrap dough for forming a ball and re-rolling.
7. Place the cookies on a baking tray lined with baking parchment and bake in a 175 C preheated oven for 8-10 minutes.
8. Allow the cookies to cool down for a few minutes. Enjoy them fresh from the oven or decorate them with icing for some extra magic!
Recipe by www.coupleofchefz.com in proud partnership.
Want to hear more from our nutritionists? Sign up to our email newsletter for insights and exclusive offers: