Turmeric Banana Pancakes (Ve)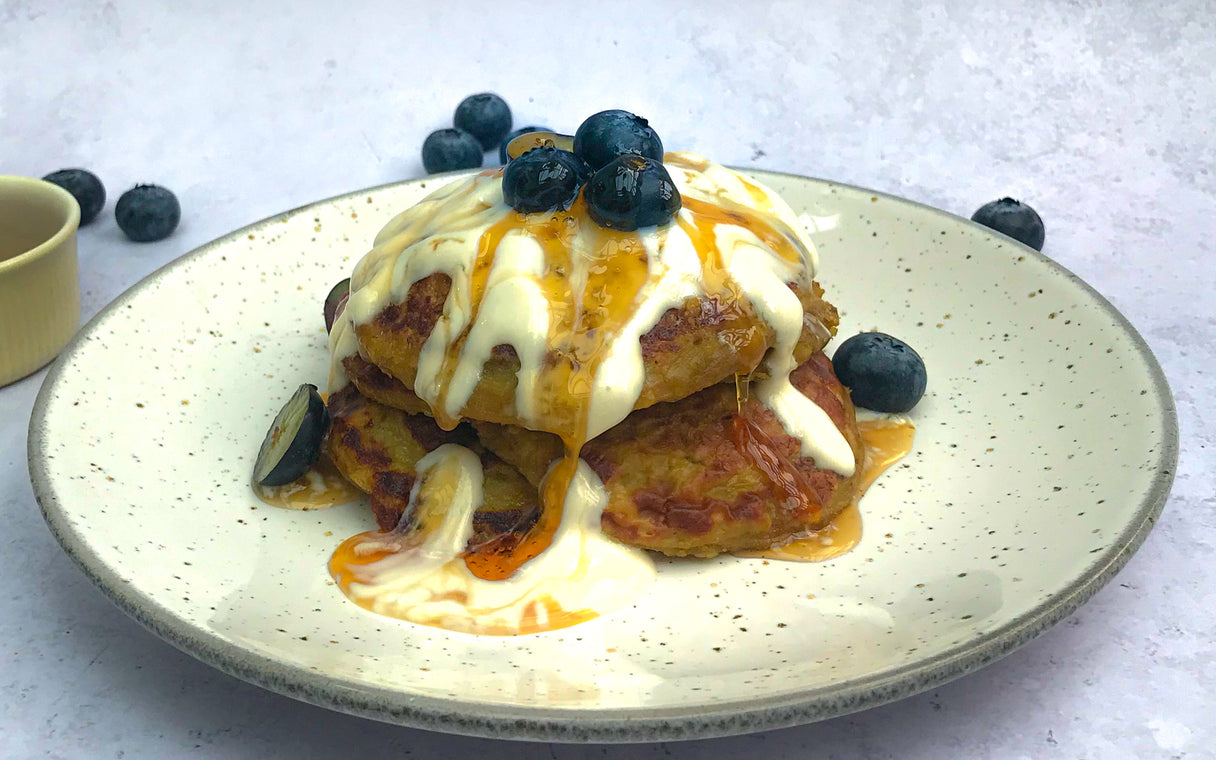 Take your banana pancakes up a notch by adding in some golden turmeric! 
Turmeric pancakes are a fun breakfast recipe packed with great health benefits. Did you know that turmeric is amazing for your immune system? It contains powerful substances called curcuminoids.
Curcumin & Turmeric have been linked to everything from heart disease, to improving your mood. Read more about the benefits of turmeric here.
Ingredients (serves 2)
2 large ripe bananas 
1 cup plain flour
1 tsp baking powder
1/4 tsp salt
2 tbsp flaxseeds
1/2 cup plant-based milk
3 tsp turmeric powder (or open a capsule of our Curcumin & Turmeric)
1 tsp cinnamon 
1 tsp coconut oil
To serve:
Maple syrup 
Blueberries
Plant-based yoghurt
Method
1) Add the bananas, milk, flaxseed, turmeric, salt, and cinnamon to a blender, then blitz till smooth.
2) In a large bowl combine the flour and baking powder. Slowly pour in the liquid mixture and fold in with a spatular till a smooth batter forms.
3) Melt the coconut oil in a large frying pan on low/medium heat.
4) Add heaped tablespoons of pancake batter to the pan and cook until small bubbles start to form on the pancake.
5) Once bubbles form, flip the pancakes over using a spatula. Cook for a further minute until golden brown. Remove from the pan and repeat the process until all the batter has been used.
6) To serve, stack the pancakes in two portions and top with a plant-based yoghurt, maple syrup, and fresh blueberries.
If you enjoyed this recipe we think you'll like our Healthy Granola Bars and Protein Parfait.
Want to hear more from our nutritionists? Sign up to our email newsletter for insights and exclusive offers: