Roasted Pumpkin Seeds (Ve)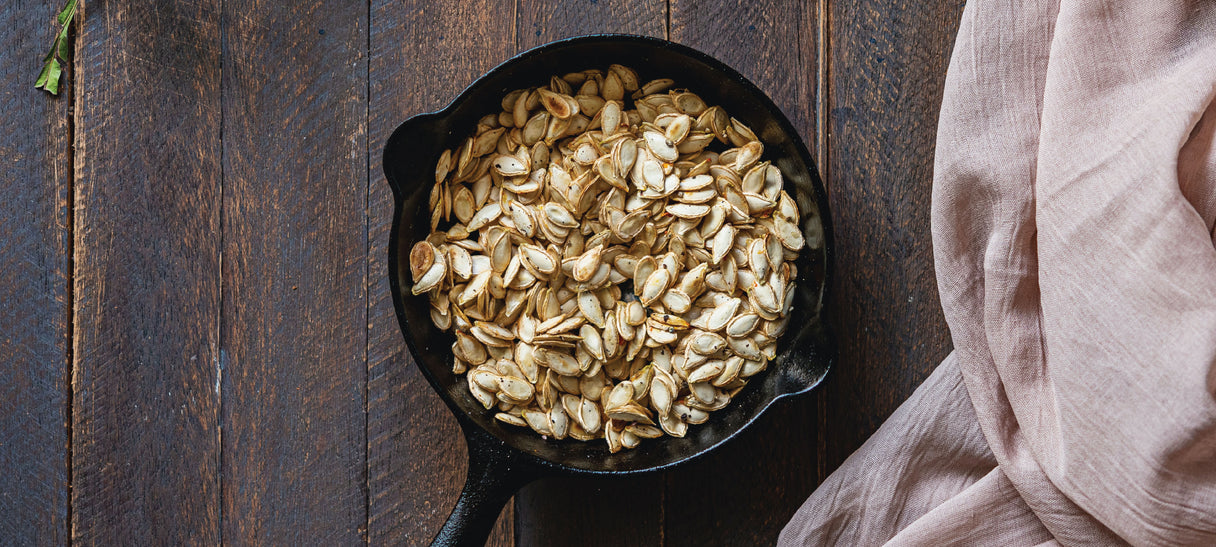 Don't throw away your pumpkin seeds, they're filled with health benefits!
Pumpkin seeds are a plant-based food source of Omega 3 and Zinc, making pumpkin seeds great for skin health, heart health and brain function. 
Ingredients:
Pumpkin (size of your choice!)
Water 
Salt 
Olive Oil 
Recipe:
1. Cut open your pumpkin from the top, circling around the stalk, and lift up the top. 
2. Scrape out the pulp and seeds.
3. Separate the seeds from the stringy pulp.
Our expert tip: To separate your pumpkin seeds from the stringy pulp, simply rinse under cool water. You can then compost the leftover strings.
4. Measure out your pumpkin seeds. We use cups but you may use grams. 1 cup of pumpkin seeds = 119 grams of pumpkin seeds. 
5. For every cup of pumpkin seeds, add 1 cups of water and 1/2 tablespoon of salt to a saucepan. 
6. Bring to a boil and let simmer for at least 10 mins, then drain using a sieve. 
Our Vegan Omega 3 is ethically and sustainably sourced from algae, with no fishy smell.  Ideal for all diets to support your optimal health every day.
7. Lay a baking sheet to a baking tray and drizzle over some olive oil. 
8. Set your oven to 200 Celcius or 400 Fahrenheit. 
9. Add seeds to the baking tray and roast for 5-20 mins in the top shelf of the oven. Keep a beady eye on them because it all depends on how big your seeds are how quickly they will bake! You're looking for a light brown colour and that will give you a satisfying crunch. 
10. Take the seeds out of the oven and you can either season with garlic powder, paprika, dill, dry mustard. You can really make this recipe your own. Or you may opt simple and leave them to cool and eat as a lightly salted, healthy snack. 
Enjoy! Outrageously delicious and just happens to be vegan. 
If you enjoyed this recipe, you may also enjoy making Baked Feta Spinach Pasta or Vegan Pancakes.
Discover our range of vegan vitamins and supplements.  
Want to stay connected? 
Want to hear more from our nutritionists? Sign up to our email newsletter for insights and exclusive offers: