Roast Pumpkin Salad (Ve)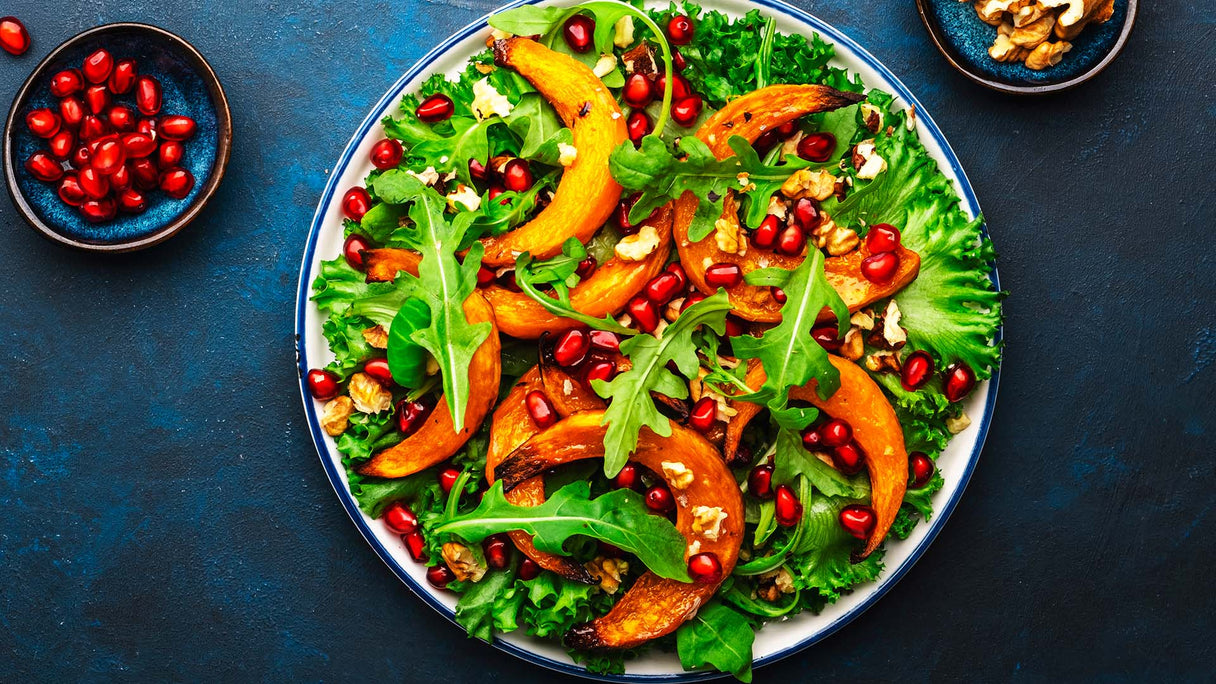 This warm, fall-inspired salad is the perfect addition to your autumn menu. The best part? It's packed with nourishing nutrients!
Pumpkins contain beta-carotene, an antioxidant that helps the body fight colds and flu. It also contains immune-supporting nutrients, including Vitamin C and Iron. Pomegranates are a nutrient powerhouse fruit rich in fibre, vitamins and minerals, and have many benefits including reducing the risk of arthritis. Walnuts are rich in fibre and zinc, and Arugula provides a great source of calcium. 
Learn more about '8 immunity boosting foods' and 'Why fibre in your diet is essential'. 
Ingredients 
1 small pumpkin

2 tbsp of maple syrup 

1 tbsp of olive oil

½ tsp of cinnamon powder

A pinch of salt
A handful of arugula - can be more or less depending on how much you want
A handful of lettuce - can be more or less depending on how much you want
1 p

omegranate - can use half if you prefer

½ a cup of chopped walnuts - leave this out if you are allergic 

Optional: roasted pumpkin seeds. 
Tip: To separate your pumpkin seeds from the stringy pulp, simply rinse under cool water. You can then compost the leftover strings.
Method 
Pre-heat your oven to 180°C.
Cut your pumpkin into slices. Scrape out the pulp and seeds. Separate the seeds from the stringy pulp.
Mix together the cinnamon, maple syrup, olive oil and salt.
Brush both sides of your pumpkin slices and add them to a lined baking tray.
Place into the oven for around 20-25 minutes, until cooked. It should appear to be soft.
While your pumpkin is in the oven, start assembling your salad. Add 

p

omegranate seeds, a handful of lettuce, arugula and walnuts to a bowl and toss them together. You can add your roasted pumpkin seeds to this too.

Place the salad on a plate and top with your pumpkin slices. Enjoy!
If you've enjoyed this recipe, we think you'd like Immune-supporting Ginger Tea (Ve) and Rainbow Salad (Ve).
Want to hear more from our nutritionists? Sign up to our email newsletter for insights and exclusive offers: