Apple Rose Tarts (Ve)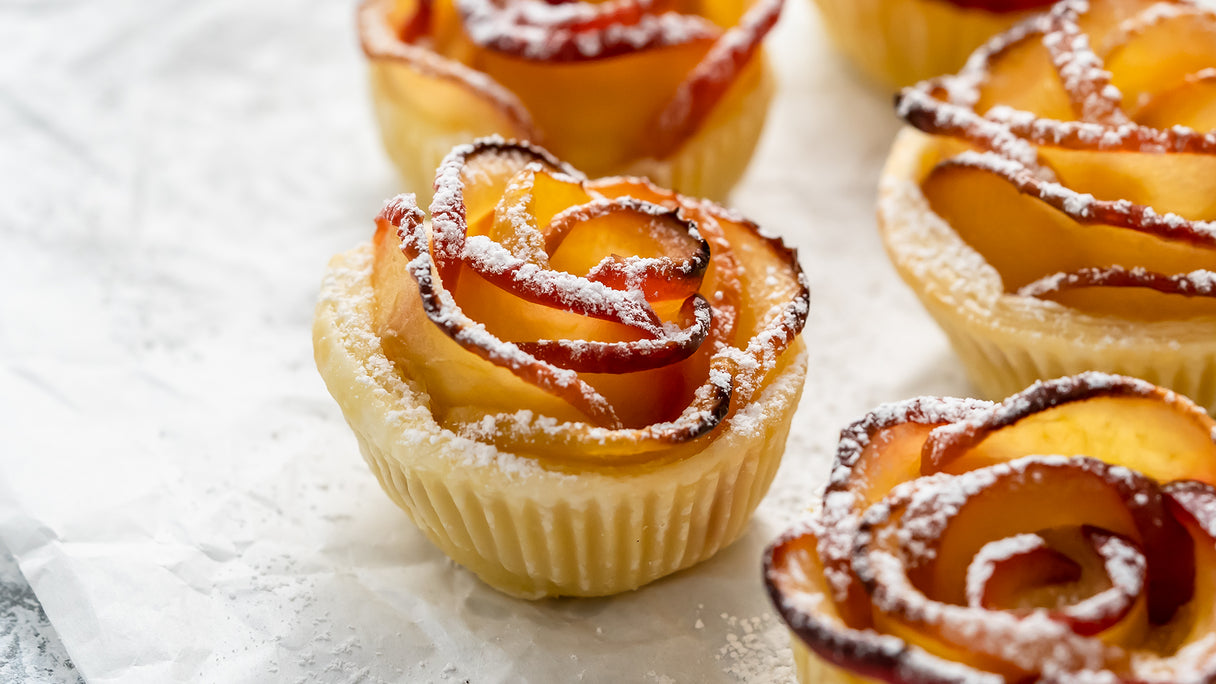 Looking for an easy treat to make mum this Mother's Day? Try Apple Rose Tarts.
Not only are these dainty apple tarts a delicious treat, but apples also contain Vitamin C and Fibre. Vitamin C has a huge range of benefits including supporting the immune system and promoting healthy, glowing skin. That's why Vitamin C is one of the key ingredients in our nutritionist-formulated Skin Saviour® supplements.
Apple tarts in the shape of roses are beautiful to look at, making them a thoughtful gift recipe. To go the extra mile you can infuse the apple in lemon juice for an extra zing or add a small amount of orange or lime marmalade underneath your apple rose formation. 
Ingredients  
3 medium-sized or 4 small-sized apples, we recommend Pink Lady as they are sweet, but you can use any regular red apples.
50g or 1/4 cup of brown sugar 
1 tbsp cornstarch 
1 sheet of vegan puff pastry 
3 tbsp of apple sauce  
2 tbsp vegan butter  
2 tsp cinnamon (you can add less or more depending on your love for cinnamon!)
2 tsp icing/powdered sugar 
Method 
Preheat your oven to 200 C. 

Place the frozen puff pastry on a floured flat surface and roll it out. Cut it into approximately 6 equal vertical strips once rolled out. 

Thinly slice your apples, you need about 10 - 15 slices for each strip, depending on the length of your strips you may need more or less.

Place apples in the microwave for 2 minutes or in a pan of boiling water for a few minutes, until the apples get soft for rolling. 

Coat your strips with a bit of vegan butter.

Place and overlap the apples on each strip. The apples should be about halfway up on each strip (half on the pastry, half on your floured work area). (Note, there are variations of this method and if you would like less pastry, you could place pieces of puff pastry into a muffin tray and place the apple straight on top.)

In a small bowl combine the brown sugar, cinnamon, cornstarch and apple sauce. 

Spread a thin layer over the apples so they are coated evenly. 

Slowly roll the strips so they began to form the rose shape and place them in a muffin tin. 

Bake for 15-20 minutes or until the puff pastry is golden brown. You may like to read '5 delicious 'superfoods' you need to know about' while you wait!

Take out of the oven and allow the pastries to cool down.

Dust powdered sugar on top of the tarts before serving.

Share your delicious tarts with us by tagging @drveganco on instagram and facebook and ENJOY! 
We think you'll also enjoy making: No Butter Banana Bread (Ve)
Discover our range of sustainable vitamins and supplements
Want to hear more from our nutritionists? Sign up to our email newsletter for insights and exclusive offers: