Protein Breakfast Porridge (Ve)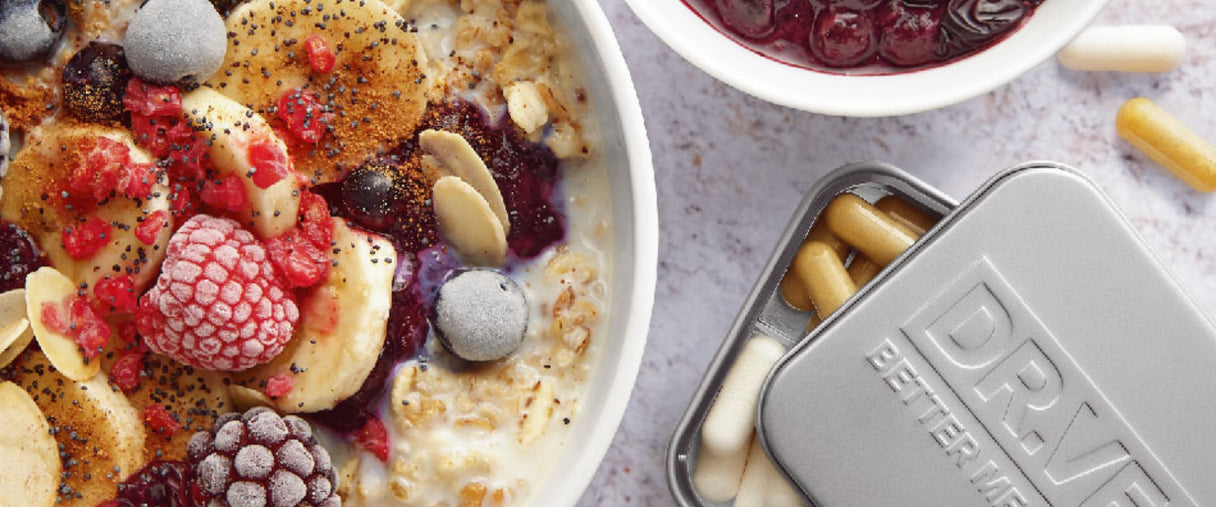 A great way to start your day!
Make this vegan breakfast packed with healthy ingredients including chia seeds and dates. You'll benefit from Protein, Vitamin C, Fibre and one of your 5-a-day. 
We've used soy milk to make this recipe, but you can substitute with your favourite plant milk. You may enjoy our blog 'What is the best plant-based milk'.
Packed full of nutrients and providing energy for your productive day ahead. Simple and quick vegan protein porridge recipe below!
Ingredients
200ml or 3/4 cup soy milk/milk of choice 
30g or 1/4 cup oats
2 chopped dates
3 walnuts (optional)
1 teaspoon agave syrup (optional)
1/4 teaspoon cinnamon (optional)
40g toasted flaked almonds
Handful of frozen berries, such as raspberries, blackberries and blueberries.
1 chopped banana
Method
Pour the milk in a non-stick saucepan and bring it to boil. Stir occasionally.
Add the oats, cover the saucepan and cook over medium heat for about 10 or 15 minutes.
Place the mixture in a bowl and add the rest of the ingredients.
Stir through so the ingredients are evenly distributed and garnish with almonds and berries on top.
Enjoy and don't forget to take your morning vitamin.
Simple and delicious. Just happens to be vegan!
You can discover more delicious plant based recipes from our team, like this Pistachio Protein Popsicles (Ve).
View our range of vegan vitamins & supplements.
Want to hear more from our nutritionists? Sign up to our email newsletter for insights and exclusive offers: