Plant-based Pasta Salad (Ve)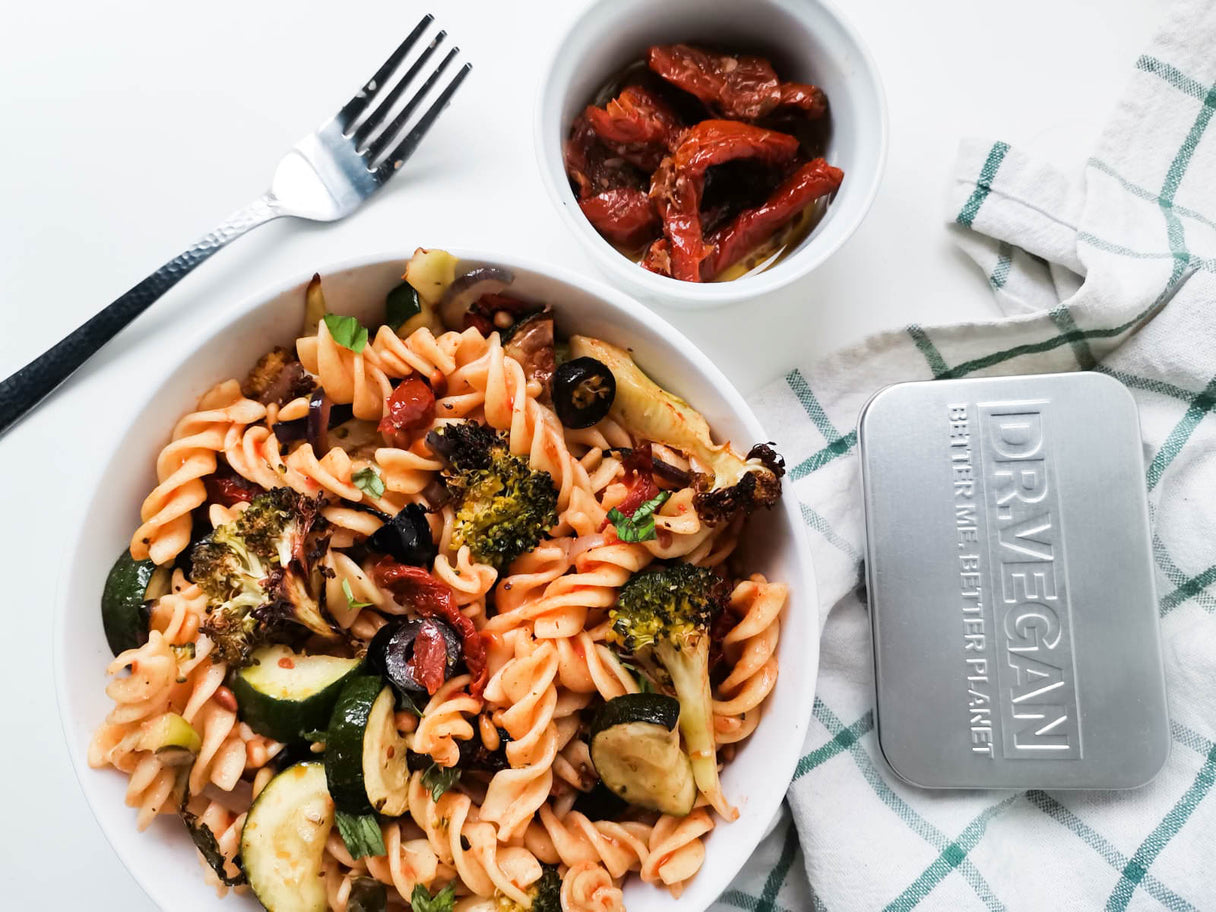 This delicious roasted vegetable pasta salad is mixed with fresh basil, sun-dried tomatoes, black olives, and toasted pine nuts to add flavour and texture to this dish.
Perfect for a filling lunch or a quick weeknight vegan dinner. We think you'll also enjoy our Thai Green Curry recipe and Creamy Tomato and Red Pepper Soup recipe.
Ingredients
1 head of broccoli, cut into small florets
1 courgette, chopped into bite-size chunks
½ red onion, finely sliced
75g sun-dried tomatoes 
75g pitted black olives
500g fusilli pasta (or pasta of your choice)
40g pine nuts, toasted
Olive oil
10g tomato paste
1 tsp oregano
Sea salt & freshly ground pepper 
20g fresh basil, roughly chopped
Method
1. Preheat the oven to 200 degrees celsius. Add the broccoli, courgette, red onion, sun-dried tomatoes, and olives into a large baking tray (using two trays if needed). Drizzle with olive oil and toss until everything is coated. Sprinkle with some salt, pepper, and oregano then place into the oven. Roast for 25 minutes, tossing halfway through, until tender and starting to brown.
2. Bring a large saucepan of water to the boil. Cook the pasta according to the packet instructions. Drain, and save half a cup of pasta water, then set the pasta aside into a large serving bowl to cool. 
3. Add the pine nuts to a pan and toast until golden. Then set aside.
4. Mix the tomato paste, lemon, and a tablespoon of olive oil together until smooth (you could also use the oil from the sun-dried tomatoes here which tastes delicious!). Mix this in with the pasta, slowly adding some of the pasta water until it has all combined.
5. Add the roasted vegetables and basil into the pasta bowl, mixing everything together until well combined. Taste and season with salt and black pepper as needed. 
Want to hear more from our nutritionists? Sign up to our email newsletter for insights and exclusive offers: