Creamy Tomato & Red Pepper Soup (Ve)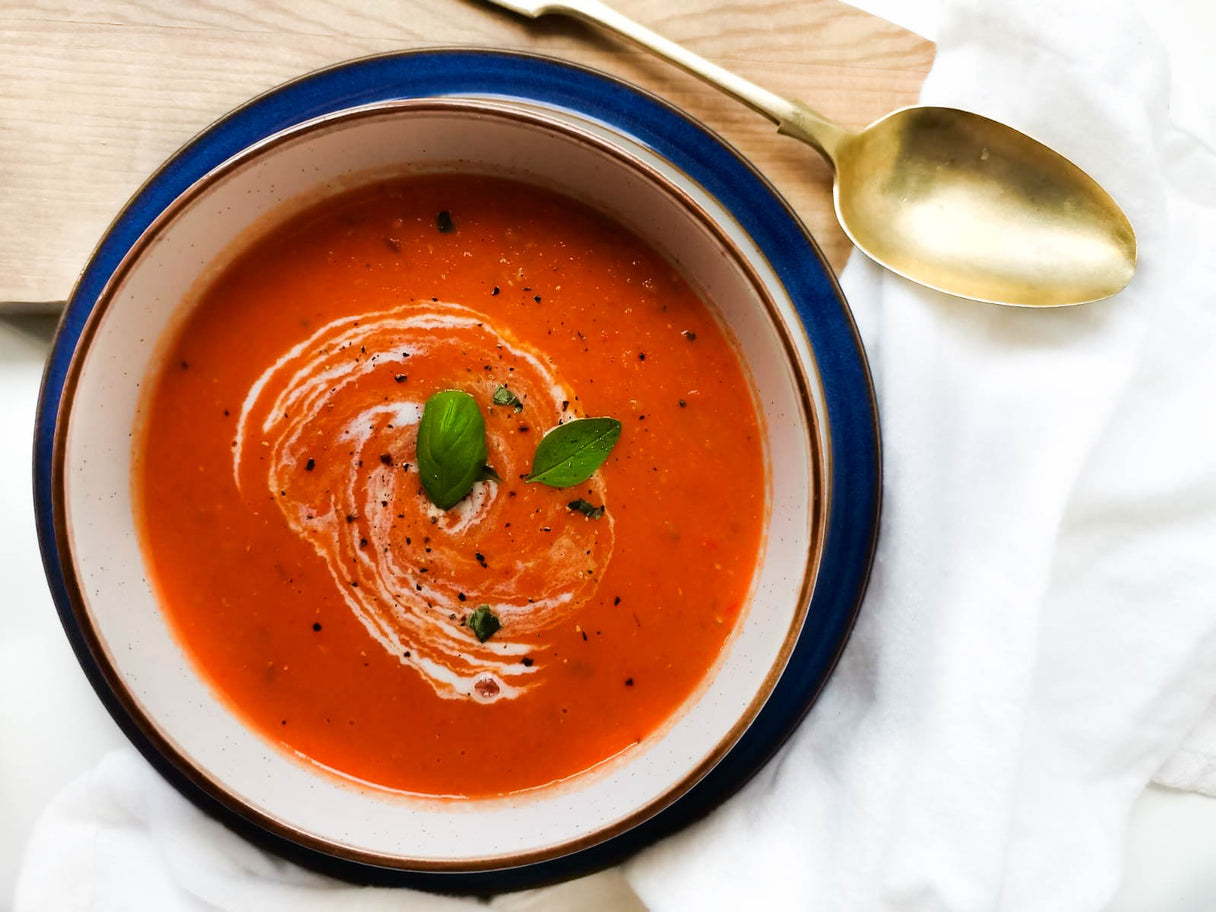 Is there anything better than tucking into a warm bowl of vibrant, rich, and creamy tomato soup on a cold day? This nourishing roasted tomato & red pepper is paired with onions, garlic, fresh basil & thyme to make a delicious & warming soup. 
If you're looking for balanced daily support using only naturally-sourced ingredients, we recommend the DR.VEGAN Daily Multi-Vitamin.
Outrageously delicious, just happens to be vegan.
Ingredients:
900g tomatoes, halved

1 large onion, peeled and sliced in quarters

2 red peppers, deseeded and sliced in quarters

1 bulb of garlic

2 sprigs of fresh thyme leaves

1-2 tablespoons olive oil

Sea salt and ground black pepper, to taste

Handful basil leaves 

500ml vegetable stock

120ml dairy-free single cream
Method: 
Preheat the oven to 220

ºC

.

Lay the tomatoes (chopped sides facing upwards), onions, red peppers out on a baking tray. Drizzle some olive oil over then place the garlic bulb in the centre. Sprinkle thyme leaves on top of the ingredients, and season with salt and pepper. Roast for 25-30 minutes until tender.

Remove the tray from the oven and leave to cool. Remove the garlic and squeeze the cloves out of the bulb. 
Pair this soup recipe with our Vitamin B12 known as the energy vitamin and essential for vegetarians and vegans.
4. Add the contents of the baking tray and the garlic to a large saucepan. Then add the vegetable stock, basil, and single cream along with some salt and pepper. Blend until a smooth orange colour then heat up on a low-medium heat.
5. Once heated. Remove soup from the heat and divide into bowls. Serve with basil leaves and a drizzle of single cream. 
~
If you enjoyed this recipe we think you'll also like our winter warmer red cabbage soup recipe.
Want to hear more from our nutritionists?  Sign up to our newsletter for more tips and advice as well as 20% off your first order with us: