Granola Butter Energy Balls (Ve)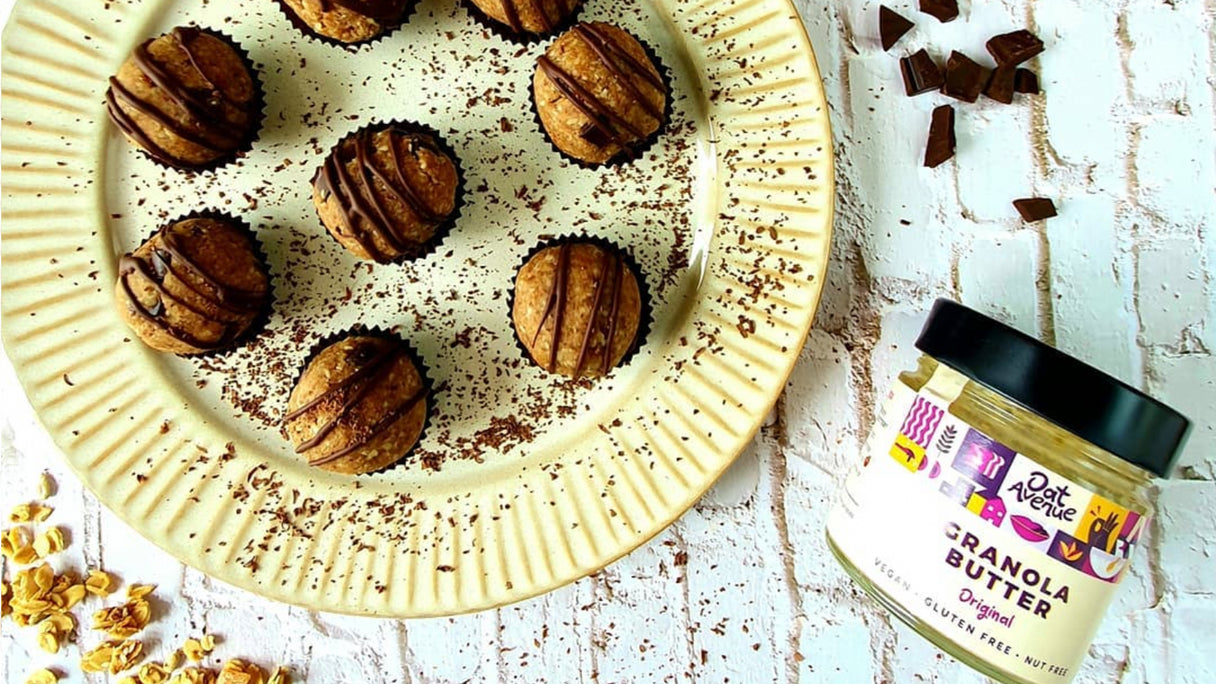 Don't want to rely on caffeine and sick of trying out different protein shakes? We hear you.
This Granola Butter Energy Balls recipe from our friends at Oat Avenue is sure to support your energy levels. 
Oat Avenue provide the UK's first ever granola butter. Not only does it taste delicious, it's vegan, gluten-free, nut-free and refined sugar-free. 
It's important to reach for foods that provide your body and mind with sustained energy, rather than caffeine which causes energy spikes and slumps. B-Vitamins are vital for sustained energy and helping protect against fatigue, irritability and lack of focus. Learn more about best alternatives to caffeine and our nutritionist's top tips for working out.
Ingredients
125g or 1/2 cup of Oat Avenue's original granola butter, for a twist of flavour try their Chai Spiced, raspberry or chocolate granola butter.
28g or 1/2 cup almond flour
2 tbsp coconut flour or more almond flour
2 tbsp maple syrup or agave, if you're not vegan you may use honey.
1tsp vanilla extract
Pinch of salt
Chocolate chips of your choice, we opt for vegan dark chocolate chips.
We recommend pairing with Vitamin B12 which supports your energy, heart and brain function
Method
Mix your dry and wet ingredients together and, using the palms of your (washed!) hands, roll into balls roughly the size of a golf ball.
Drizzle with optional chocolate and chia seeds for extra plant-based protein.
Set in the fridge for around three hours. You may enjoy reading about our recommended plant-based protein options for energy whilst you wait!
Tuck in! Perfect as a pre or post-workout snack, an energy fuelling breakfast or a simple pick-me-up snack.
You can store these granola energy balls in the fridge too making it a great batch-cooking recipe. 
Recipe by: Shenaz Food Diaries, in partnership with our friends at Oat Avenue.
Want to hear more from our nutritionists? Sign up for their free newsletter: