French Toast (Ve)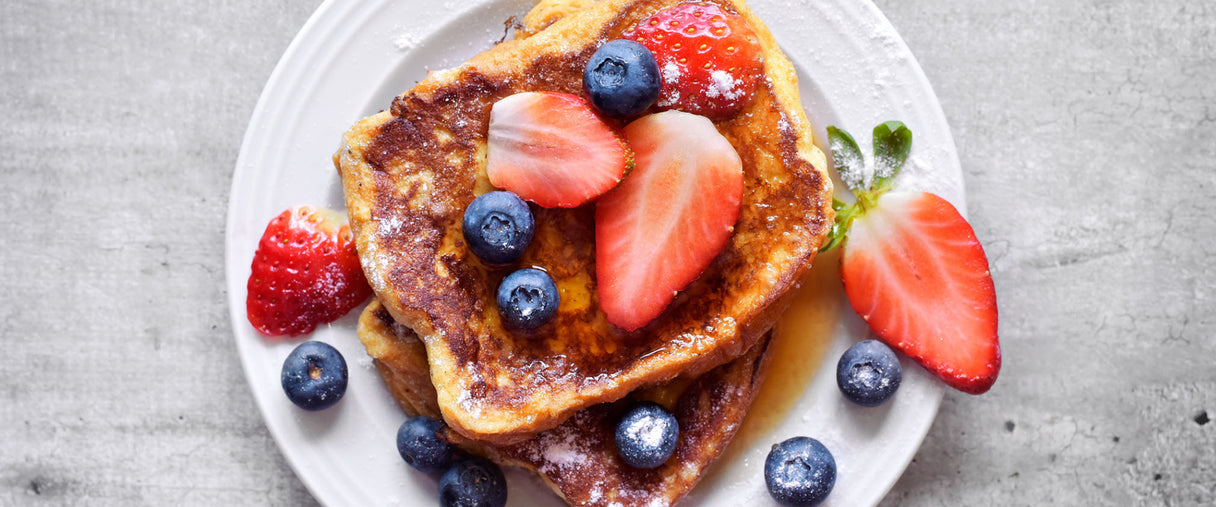 Our French Toast is a breakfast recipe that impresses but is surprisingly easy to make. Suitable for vegans and vegetarians, and this recipe contains coconut milk making it suitable for those with lactose intolerance too. 
Not only will you receive compliments for your food but the beauty of our French Toast recipe is that you have two 30 minute bursts of time to enjoy hosting and chatting with your friends and family. 
Coconut milk is a recommended stable for your vegan pantry as it can be used for both savoury and sweet dishes and drinks. You may like to know that coconuts contain a lipid called Lauric Acid which scientific research has linked with supporting the immune system. We think you'll enjoy reading 'What is the best plant-based milk?' as well as exploring our range of easy vegan recipes to try at home.
Ingredients
Serves 4 people, suitable as a big sharing plate
400ml tin coconut milk 
2 brown/spotty bananas
1 tsp ground cinnamon
7/8 slices of thick bread, brioche and white works well (if catering for those who are coeliac or lactose intolerant, check the bread is suitable first)
Note: You will need a baking tray big enough to lay out the pieces of bread, it's absolutely fine if they are squished in.
Options for the French Toast toppings
Shop with the seasons and the local produce, however a few of our favourites include...
Blueberries, a great food for supporting healthy brain function
Strawberries 
Peanut butter or almond butter, both great sources of plant-based protein
Maple syrup 
Chopped banana, one of our recommended alternatives to caffeine
Raspberries
Pistachio nuts
Chia seeds, as a plant-based source of Omega 3
Recipe
1. Preheat the oven to 180°C
2. Either hand whisk or use a blender to mix the coconut milk, bananas and cinnamon until it forms a smooth batter with no lumps. 
3. Pour half the batter into a baking tray (one that's big enough to fit all your bread), then, you guessed it, lay your pieces of bread on top of the batter. You can squish the bread in if you need to.
4. Pour the rest of the batter on top to really coat your bread. 
5. Place the tray in the oven for 30 mins, flip the slices of bread over and continue baking for another 30 mins.
Whilst cooking, you may like to view our range of sustainable and vegan supplements, including the award-winning Daily Multi-Vitamin.
6. Take out the oven and place in the centre of the dinner table, surrounded by toppings to decorate your vegan French Toast. Let your flavour curiosity run wild and don't forget to take a photo and tag us on facebook and instagram @drveganco 
If you enjoyed this recipe we think you'll like our Vegan Pancakes and Vegan Chocolate Cake.
Want to discover more recipes and tips from nutritionists? Sign up to our email newsletter for insights and exclusive offers: