Crispy and Fluffy Roast Potatoes (Ve)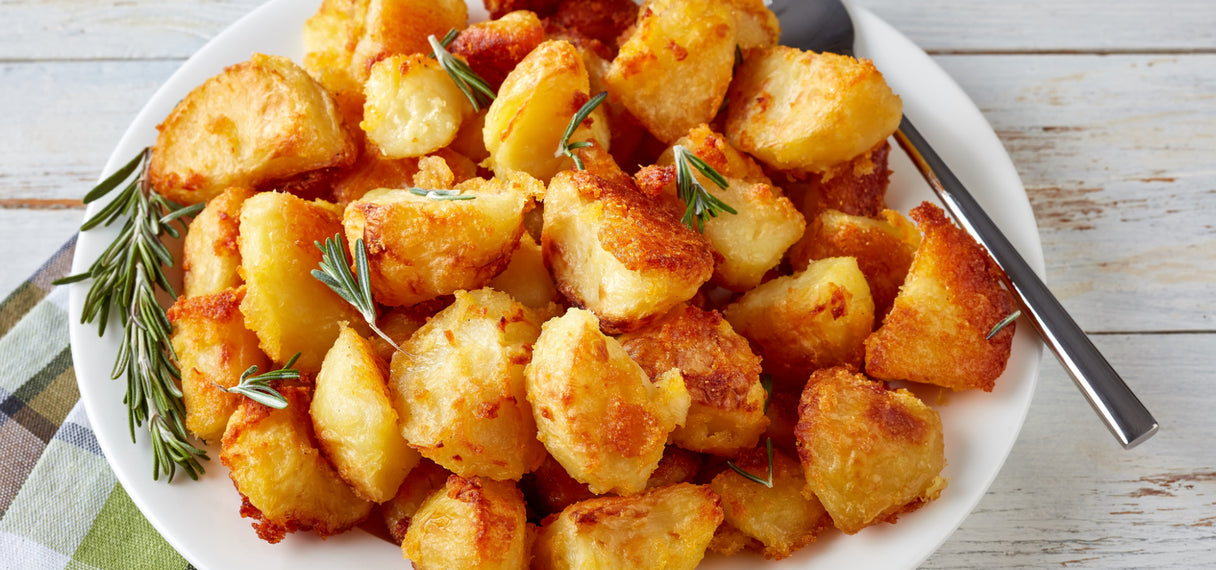 Arguably the most important part of Christmas dinner, it's the quality of the roast potatoes or 'roasties'. With multiple diets to cater for at the dinner table, vegetarian, vegan, pescetarian, keto, roast potatoes are the side dish that can be a real crowd-pleaser when you get it right. 
Are potatoes healthy? Potatoes are rich in antioxidants, which neutralise potentially harmful molecules known as 'free radicals' in our bodies. 
In this recipe we've perfected the crispy and crunchy outside and the fluffy centre of the roast potato, without goose fat or any animal ingredients at all. Our vegan-friendly roast potatoes are ideal for pairing with a glug of warming gravy. 
We also think you'll enjoy our superfood salad recipe and sweet potato fritter recipe.
Ingredients
900 g / 2 lbs Maris Piper potatoes
2 tbsp olive oil
1 tsp rosemary or your herbs of choice
2 tbsp cornstarch
Sea salt to serve
Method 
1. Wash, peel and chop your potatoes into chunks of your preferred size. The larger the size of your potato chunks the longer they will take to cook. Place your potato chunks in a bowl/pan of cold water for about half an hour to get rid of excess starches, this step makes your potatoes crispier later.
2. Transfer your potatoes into a large saucepan of salted water and boil (with the lid on for energy efficiency) for 10 minutes.
3. Drain and shake vigorously so that the outside starts to fluff up a bit and pre-heat your oven to 200C (400F).
4. It's now time to season before roasting. It's best to avoid salt at this point though. We like to start with a swizzle of olive oil and then add rosemary. You may use any herbs and spices you like of course. We recommend adding cornstarch at this point which really helps roast potatoes gain that beautiful crispy outside. Either use your hands to rub it all in or use a spoon, it's up to you, as long as all the potatoes are all nicely coated.
If you're unsure if your diet is supporting you as it should we recommend taking your Diet Profile, for free, in just 3 minutes.
5. Toss your potatoes into a baking tray and roast in the centre of the oven for 25 mins. After that time give them a shake and roast for a further 20 mins, however use your judgement based on the size of your potatoes and how crispy they are already. 
6. Take out your sizzling perfect roasties and mix in some sea salt. Dig in and enjoy! 
This recipe is outrageously delicious, just happens to be vegan.  
Want to hear more from our nutritionists? Sign up to our email newsletter for insights and exclusive offers: