Cauliflower Soup (Ve)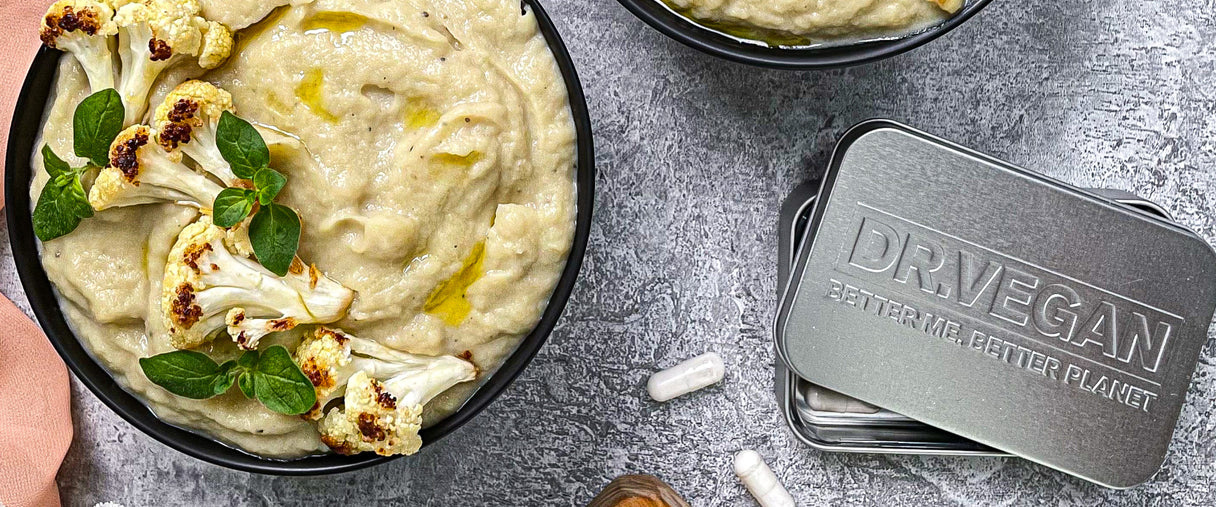 This creamy and healthy cauliflower soup is minimum effort, wholesome and comforting. It's a great recipe for busy weekday dinners with very little preparation and cook time.
This is a healthy plant-based soup ready in under 40 minutes.
As you might have guessed, the superstar of this recipe is cauliflower. This recipe requires two cauliflower heads (scale up or down depending on your portion requirements). When smoothly blended, the vegetable puree has a creamy texture, and all of this without the addition of any heavy cream!
We think you'll also enjoy our Thai Green Curry recipe, which is also vegan-friendly.
Cauliflower is high in fibre and low calorie. To boost the nutrient content of this soup even further, we added Bone & Muscle Support supplements which can be 'unscrewed' and the contents simply pour in. The supplements are a rich source of Calcium, Magnesium, Vitamin D3 and K2.
Enjoy this recipe as a light dinner or pair it with toast or a sandwich for a work lunch.
Ingredients
Serves 4 portions
1 onion
diced

10 cloves garlic, 
minced
2 chopped cauliflower
4 diced potatoes 
1 tbsp white miso paste
250ml or 1 cup of v
egetable stock
Salt (to taste)
Method
Start by preparing your ingredients. Dice the onion and potatoes and prepare the cauliflower by removing the outer leaves and trimming the stem. Roughly chop up the florets.

In a large stockpot heat olive oil over medium heat. Cook the minced garlic and diced onion over medium heat until caramelised.

Add the potatoes, cauliflower and vegetable stock and bring it to a simmer. Lower the heat and continue to cook for another 15 minutes. Add the miso paste and nutritional yeast.

With an immersion blender, blend the ingredients together until smooth.

Allow the soup to simmer on low heat and add the Bone & Muscle Support pills into the soup along with salt and pepper to taste.

Serve with garnish of your choice!
This recipe is by our wonderful friends Couple of Chefz  coupleofchefz.com 
You may also like to make Rainbow Salad or The Best Vegan Pizza
Recipe tips
In case you would like to use a traditional blender, transfer the soup into the blender in batches and blend until smooth.
If the soup appears to be too thick, you can add 1⁄2 – 1 cup extra vegetable broth.
You can prepare it in advance and store it in the fridge for up to 3 days.
Want to receive our latest recipes, nutrition content and discounts in your inbox? Sign up to our email newsletter for insights and exclusive offers: