Vegan Raspberry and Lemon Cake (Ve)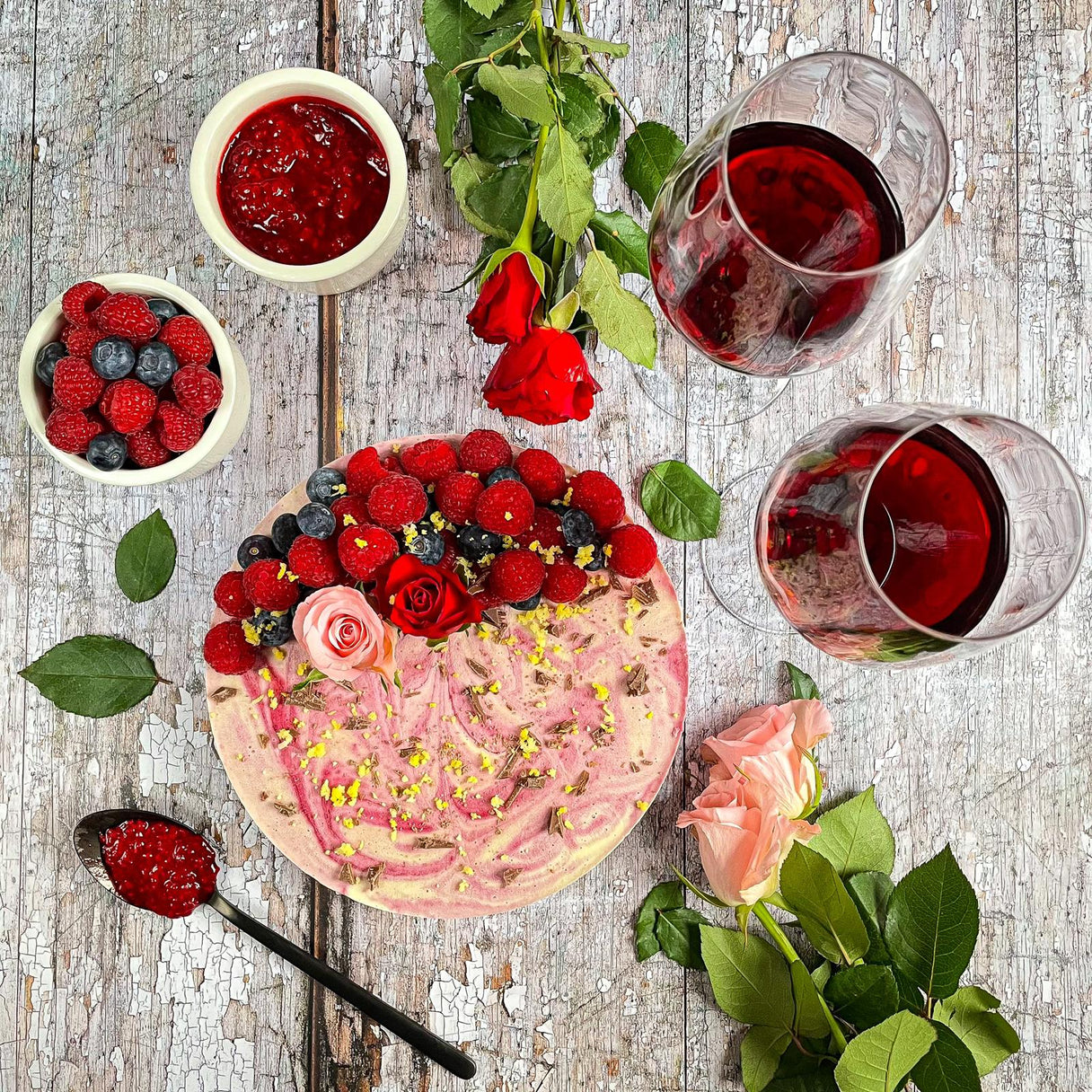 Share your love in literally the sweetest way possible! 
This frozen raspberry lemon cake is so delicious and unique in flavour, it'll surely leave a long-lasting impression. Whether you make it for Valentine's Day or simply to share the love no matter the day of the year, that's up to you.
Ingredients
(ideal for a 20cm cake tin)
Cake base: 
Oats (3/4 cup) 
Almonds (3/4 cup) 
Shredded coconut (1 cup) Pitted dates (1 cup) 
Salt (pinch) 
Lemon juice (half a lemon) Dark syrup (3 tbsp)  
Raspberry sauce: 
Frozen raspberries (1 1/2 cup) Dark syrup (2 tbsp)
Water (2 tbsp)  
Cake filing: 
Cashews (3/4 cup) 
Dark syrup (2 tbsp) 
Vanilla extract (1 tsp) 
Lemon zest (2 tbsp) 
Lemon juice (half a lemon)  
Coconut milk (2 cup) 
Coconut oil (1 tbsp) 
Turmeric (1/2 tsp) 
Method 
In a food processor blend almonds, oatmeal, shredded coconut, a pinch of salt, lemon juice,  dark syrup, and dates. Blend until well combined.  

Spread the mixture in the cake tin and push downwards for an even base layer. Refrigerate.

Add the frozen berries, dark syrup and water into a blender and blend until smooth paste.  Refrigerate. 

Blend together the ingredients for the cake filling (cashews, dark syrup, vanilla extract, lemon  juice, lemon zest, coconut milk, coconut oil, turmeric).

Pour the cake filling into a mixing bowl and combine with the raspberry sauce.

Pour the ingredients into the cake tin. Swirl the ingredients with a knife for a beautiful design.

Freeze for 3 hours. Garnish with berries, lemon zest, raspberry sauce, chocolate, and other  toppings of choice.  

Thaw the cake for 30 minutes before serving! Enjoy!
Recipe by @couple_of_chefz / www.coupleofchefz.com in proud partnership with DR.VEGAN®
You may also enjoy trying our pink Beetroot Pasta
Want to hear more from our nutritionists? Sign up to our email newsletter for insights and exclusive offers: