Grilled Aubergine (Ve)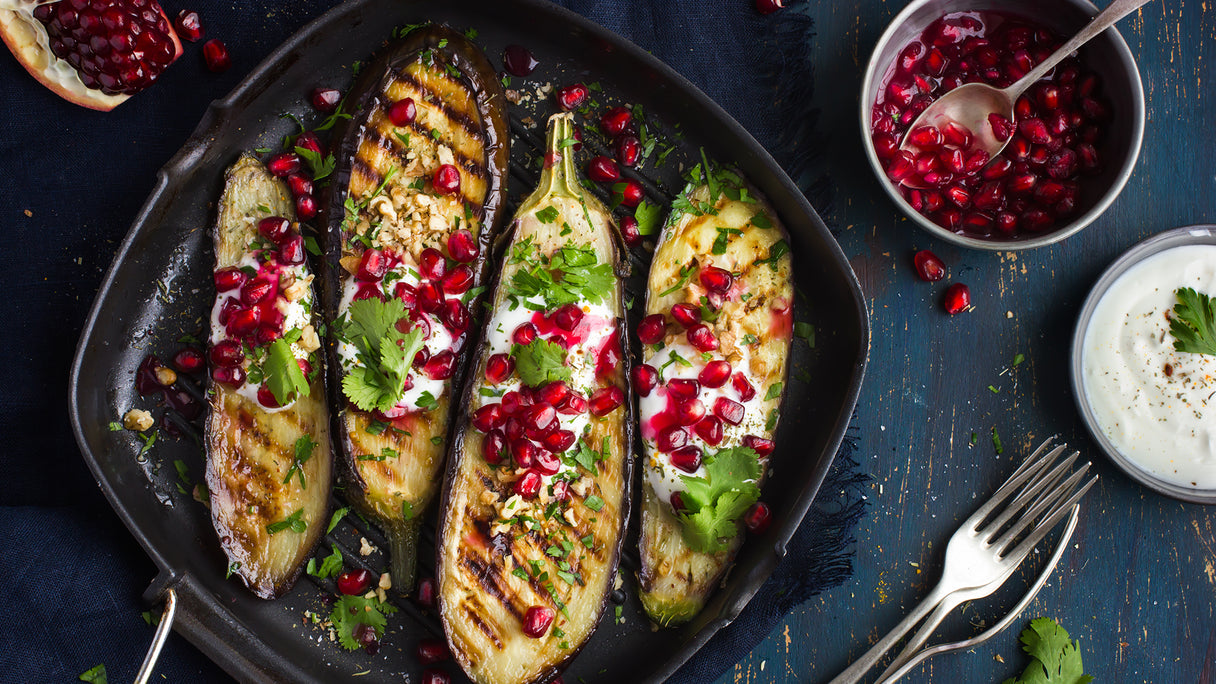 The hunt for easy-to-make, mouth-watering side dishes is growing in popularity as more people around the dinner table are eating less or no meat. 
This vegan recipe is not just oh-so-flavourful and visually beautiful, it has a range of health benefits. Not only are aubergines/eggplants a great source of antioxidants and Vitamin C, but they also help support digestion and regulate your blood sugar levels. We think you'll also enjoy reading about the symptoms of high and low blood sugar.
Pomegranates also have some surprising benefits. It helps to lower cholesterol and blood pressure, supports your immune system and soothes stomach aches. 
We also think you'll enjoy our Crispy and Fluffy Roast Potatoes recipe and Apple and Cherry Puff Pastry Tarts recipe.
Ingredients 
2 large aubergines (add more if you have more guests!)
2 tbsp olive oil
155 g / 1 cup pomegranate seeds
235 ml / 1 cup vegan yoghurt
A handful of chopped and washed coriander (cilantro) for garnish
Method
1. Wash and slice your aubergines into two pieces, lengthways. 
2. Drizzle olive oil into a grill pan, and place your aubergines facing downwards onto the pan. Grill until tender for 5-7 mins on medium heat. Don't forget to flip them over. 
3. Once done, top your aubergines with a spoonful of vegan yoghurt, some pomegranate seeds and a few leaves of coriander.
4. Serve and enjoy!
If you're unsure if your diet is supporting you as it should we recommend taking your Diet Profile, for free, in just 3 minutes.
Want to hear more from our nutritionists? Sign up to our email newsletter for insights and exclusive offers: