Easy Vegan Garlic Mayonnaise (Ve)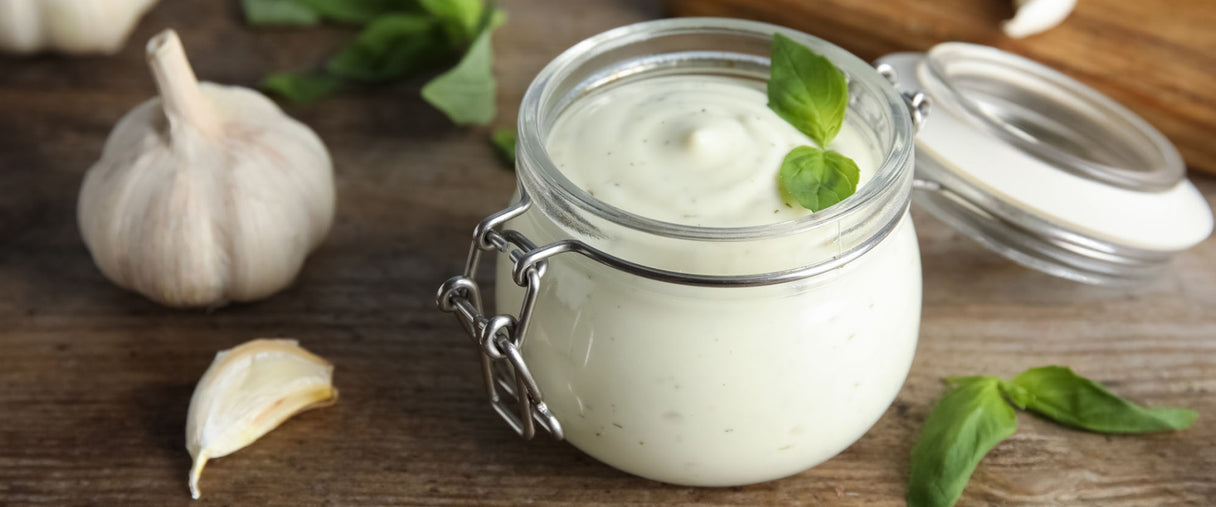 The best garlic mayo you'll ever have and you may be surprised to know this recipe does not include eggs. This vegan mayonnaise recipe is ideal for those with dietary requirements and/or those who wish to make sustainable and eco-friendly swaps in the kitchen.
Mayonnaise is a high-fat condiment, however making it at home means you can skip nasty additives, colouring, and preservatives. This vegan garlic mayo recipe is therefore a lot kinder to your body than many brands on the supermarket shelves.
You can adapt this recipe to not include garlic, so you have traditional mayonnaise in your fridge, however we have included garlic as it is one of our top 6 plant-based foods to support your immune system.
Ingredients
250ml rapeseed oil 
125ml unsweetened soya milk, you may like to read our guide on the best plant-based milks.
2 tbsp white wine vinegar 
1 tbsp maple syrup, or honey if you are not vegan and like the taste
1 tsp table salt 
3 cloves finely crushed garlic 
2 tsps lemon juice
Method
1. Simply add all ingredients into a blender.
2. Blitz! You should keep blitzing until you have a thick and creamy sauce. Give it a taste and add any extra lemon or salt if you would prefer it. 
3. Pour into a jar, we recommend reusing an old condiments jar, and place in the fridge. The sauce will last a week. 
4. Share your garlic mayo with us by taking a photo and tagging us on Facebook and Instagram at @drveganco
We think you'll also enjoy our other vegan and easy recipes like Miso and Maple-glazed Aubergine and 3 Ingredient Jerk Cauliflower. 
Discover our range of vegan vitamins and supplements.
Want to hear more from our nutritionists? Sign up to our email newsletter for insights and exclusive offers: