Crispy Tortilla Salad Bowl (Ve)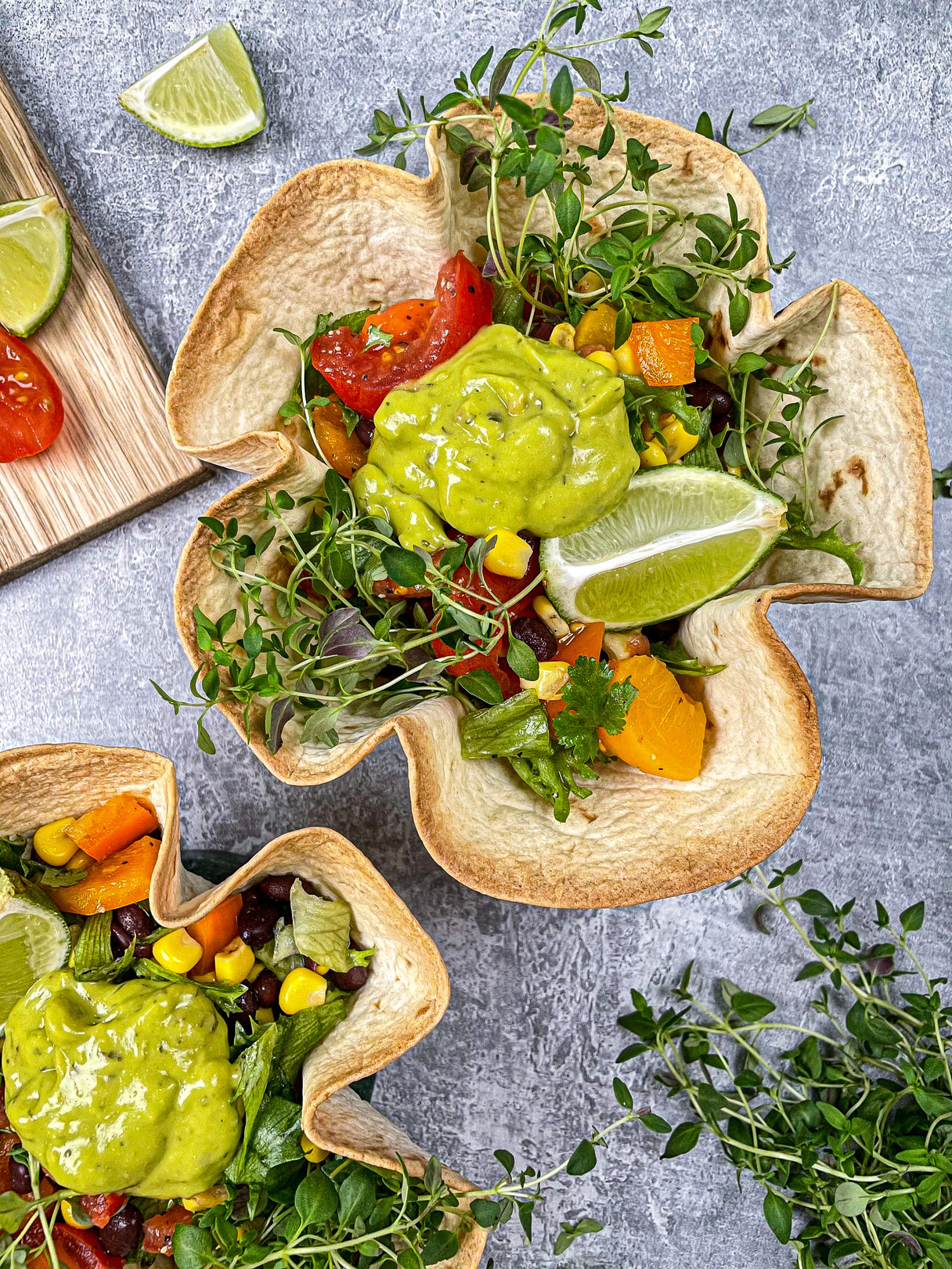 Fresh, zesty and full of texture! It makes for a mighty lunch or an exciting dinner.
We know how time can be of the essence, so we assure you this recipe will be done much faster  than you think. To speed things along, we recommend baking the crispy tortilla basket while  preparing the rest of the salad ingredients. Your tasty meal will be done in under 30 minutes! 
And like any good salad, flexibility is key. Feel free to mix out our ingredients for your favourite ones.
This recipe includes avocado, which is rich in Magnesium. We've all heard of Magnesium but not many people realise just quite how important it is, or if they are deficient in Magnesium.
Magnesium is involved in over 300 chemical reactions in the body and essential for our energy, bones, brain and immune health. DR.VEGAN® Magnesium supplements are naturally sourced and recommended by nutritionists for all diets. 
Ingredients (serves 4 portions)
For the tortilla bowls: 
Tortilla (2) 
Olive oil (1 tbsp per one bowl) 
Oven-safe bowl 
For the salad: 
Romaine lettuce (1) 
Tomatoes (200 g) 
Bell pepper (1) 
Canned corn rinsed & drained (170g) 
Canned black beans rinsed & drained (170g) 
Canned sliced peaches drained (100 g) 
Lime juice (60 ml) 
Guacamole dip (a dollop) 
Salt (to taste) 
Pepper (to taste) 
Method 
Preheat the oven to 180 degrees calcius.


Meanwhile grease the inside surface of 2 ovenproof glass bowls. Place the tortilla inside the bowl and form a flower shape by pinching the sides.

Bake for 10-12 minutes until golden-brown and ready. Take the bowls out and allow them to cool. 

Meanwhile in a large salad bowl combine the salad ingredients – romaine lettuce,  tomatoes, bell pepper, corn, black beans, and sliced peaches. Mix the ingredients and season with lime juice, salt and pepper.

Finish with a dollop of guacamole!
Thank you to our wonderful friends Couple Of Chefz for this brilliant recipe. Check them out at www.coupleofchefz.com or @couple_of_chefz on Instagram.
If you enjoyed this recipe, we recommend: The Best Vegan Pizza
Discover our range of sustainable vitamins and supplements
Want to hear more from our nutritionists? Sign up to our email newsletter for insights and exclusive offers: