Healthy Bolognese (Ve)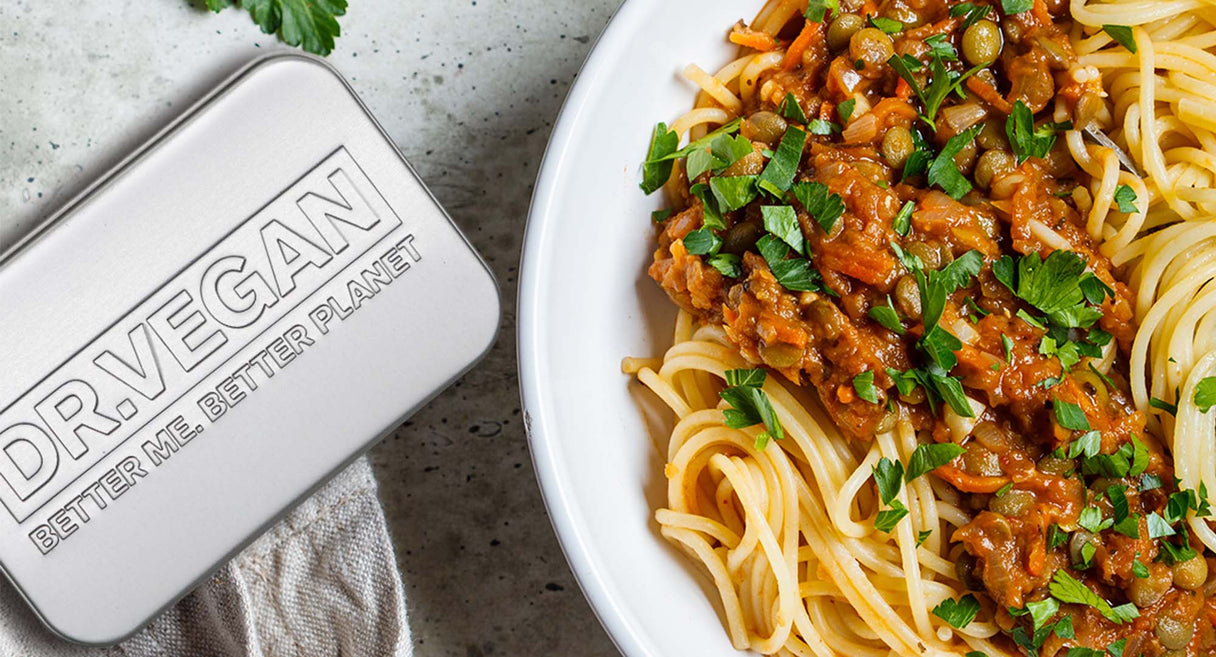 Nourishing, slightly smokey, and delicious. A perfect cosy weeknight dinner.
As a meat alternative we have opted for lentils, which are very high in protein and a great source of iron. Many people are unsure how to get protein and iron into their diets without eating beef or chicken, but lentils are packed with nutrients and can be made very tasty in this recipe. You may also enjoy reading 'Best sources of protein on a plant-based diet'.
If you're looking for daily support to bridge nutritional gaps in your diet, we recommend taking our award-winning Daily Multi-Vitamin alongside trying all our delicious and free recipes.
This delicious bolognese can be folded through freshly cooked pasta of your choice, although spaghetti is the traditional choice.
Ingredients
2 onions, finely chopped
500g mushrooms, finely chopped or blitzed in a food processor 
1 carrot, grated 
235g tinned lentils, drained and rinsed
5 cloves garlic, peeled and minced
500g passata or 1 x can chopped tomatoes 
3 tablespoons soy sauce
2 tablespoons tomato pureé
2 capsules of your Daily Multi-Vitamin 
2 teaspoons thyme leaves, dried or fresh 
3 teaspoons smoked paprika
Salt and pepper to taste
30g crushed walnuts to top (optional)
To serve (optional):
300g pasta of your choice, we chose linguine
Fresh thyme 
Freshly grated Parmesan 
Method
Heat a splash of olive oil in a large heavy-based pan over low heat. Add the finely chopped onion and sauté for about 10 minutes, until the onion starts to turn translucent.  
In a separate pan, add some olive oil and begin frying the mushrooms and carrots over medium heat. Add in the soy sauce and stir occasionally, cooking for 5-7 minutes. Add the lentils and tomato purée, and stir to combine. Lower the heat and simmer for 10 minutes.
You can also add your Daily Multi-Vitamin formula by 'unscrewing' the capsules and pouring in the contents. 
Go back to the onion pan and check if they've softened. Once they're done, add the garlic, thyme, smoked paprika and a pinch of salt. Stir for another 5 minutes, then take the pan off the heat and set it aside.
Meanwhile, cook the pasta in a saucepan of boiling salted water for 10 minutes. Drain and reserve ½  cup (125ml) of the water. 
Once the mushrooms and lentils are cooked, add them and the passata to the pan of onions, stirring everything together. Add some salt and pepper and cook for a further 6-7 minutes. Add a few spoons of the pasta water to the pan if it's starting to stick and to dilute the sauce.
Toss the pasta with the mushroom and lentil bolognese and garnish with crushed walnuts and extra fresh thyme, or scatter some Parmesan over the top. 
Discover our range of vegan vitamins and supplements.  
Want to hear more from our nutritionists? Sign up to our email newsletter for insights and exclusive offers: