Avocado, Beetroot and Pea Shoot Salad (Ve)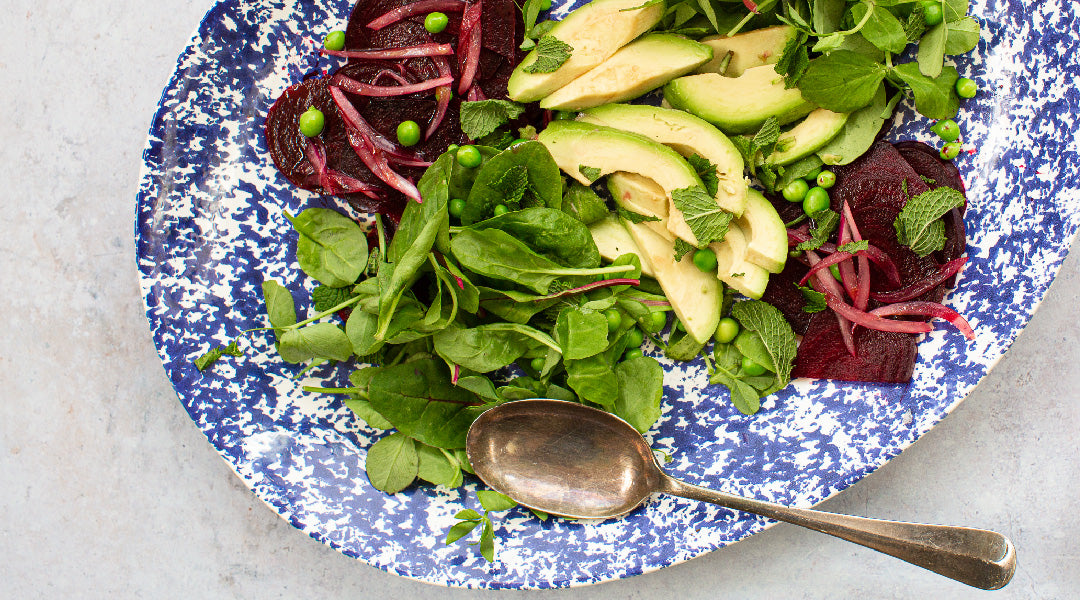 A fresh lunch you can look forward to and fuel the rest of your day. Beetroot is a great source of fibre, folate (vitamin B9), manganese, potassium, iron, and vitamin C. Beetroots and beetroot juice have been associated with numerous health benefits, including improved blood flow, lower blood pressure, and increased exercise performance.
Enjoy and share your photos with us @drveganco on Instagram and Facebook!
INGREDIENTS 
2 beetroot, cooked 
1 small red onion, finely sliced 
Raspberry Dressing - we recommend Lucy's Dressings
I large Avocado, peeled and sliced 
75 g peas, blanched and refreshed 
1 bag leaves with pea shoots 
handful mint leaves, roughly chopped 
Salt and Black Pepper 
METHOD 
Slice the beetroot and add to a bowl with the red onion.

Pour over 4 tablespoons of dressing, season with salt and pepper and leave for 15 mins to allow the flavours to  infuse. 

When ready to serve spread half of the beetroot mixture in a large shallow dish.

Add half of the avocado, peas, mint and leaves on top.

Garnish with the remaining beetroot and the rest of the ingredients and serve.
Recipe by the wonderful Lucy's Dressings in partnership with DR.VEGAN
View our range of Vegan Vitamins & Supplements. 
Want to hear more from our nutritionists? Sign up to our email newsletter for insights and exclusive offers: