The 5 best carbs for plant-based meals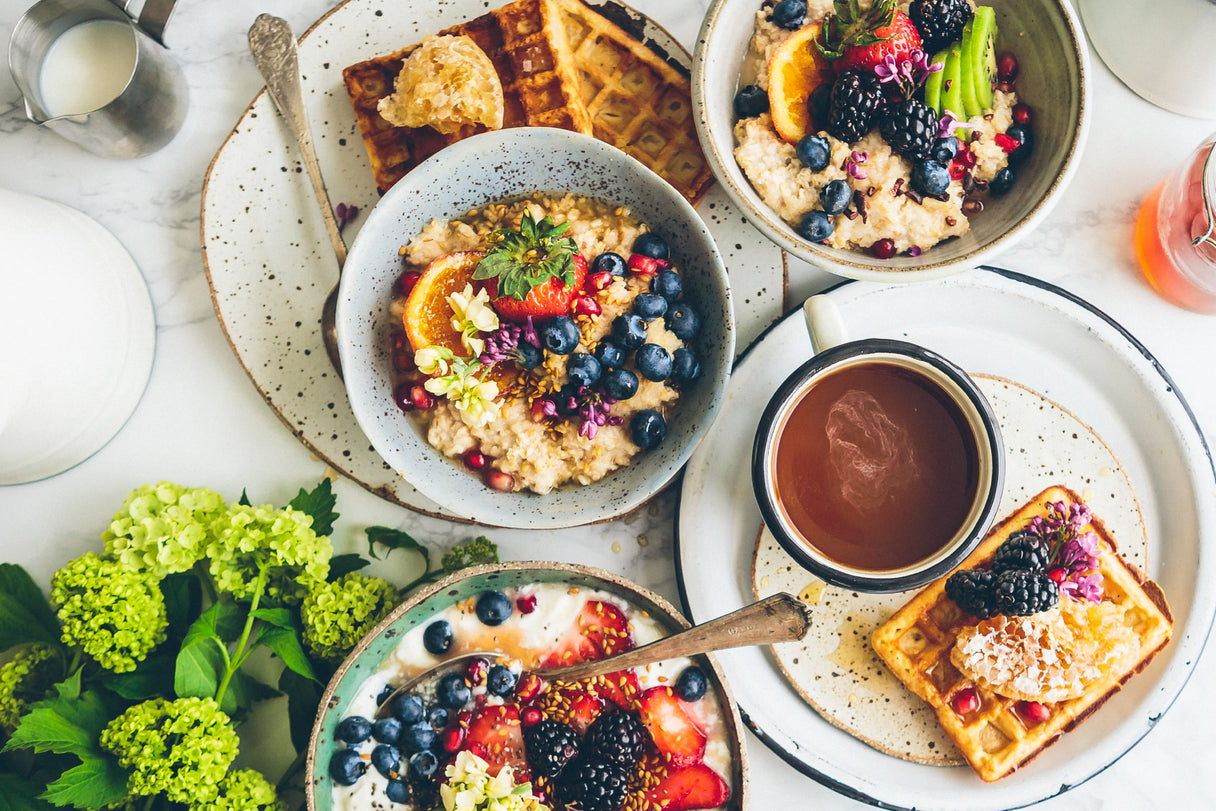 Carbs have been getting a bad rap for a while now, even though it's the body's primary source of fuel! With so many low carb foods available, the rise of the Keto diet and media hype surrounding gluten, it's no wonder so many people are confused about carbohydrates.
Nutritionists and dieticians emphasise the importance of carbohydrates for regulating body processes including our brain function, growth of beneficial gut bacteria, and even helping our blood cells function properly. 
Not sure what your body needs? Create your Diet Profile.
Not all carbohydrates are created equal
Aim to get most of your daily carbohydrates from nutrient dense, unrefined carbohydrate foods such as wholemeal bread, brown rice, oats, beans, chickpeas, lentils and fruits and vegetables. Research shows refined bread is the most common cause of IBS and bloating, so you want to avoid it. Learn more about the common and unusual symptoms of IBS.
These types of carbs will also keep you feeling full for longer as they take longer to digest compared to refined foods like white bread, rice and pasta, cakes and biscuits.
Because unrefined carbohydrates are minimally processed, they're packed with vitamins, minerals, protein and gut-friendly fibre. Here are 5 of the best vegan carbs giving you the best nutritional bang for your buck.

1. Barley
Barley supplies plenty of complex carbs and is a good source of beta-glucan, a soluble fibre which can help to lower blood cholesterol levels and protect against heart disease. You also gain from a range of micronutrients including B-Vitamins, Selenium, Iron, Magnesium and Zinc, making it an absolute nutrient powerhouse!
Barley works wonders in soups, stews, risotto, Buddha bowls, and you can even make delicious vegan mushroom-barley patties for your plant-based burger. 
2. Quinoa
Quinoa is a great complex carbohydrate as it's a good source of protein and fibre. This naturally gluten-free seed has almost twice the amount of fibre compared to most other grains and provides over 5 grams of fibre per cup - that's around 16% of the 30g daily requirement of fibre.

Quinoa also contains all 9 essential amino acids required to help build and repair muscle tissue, so its a complete source of plant-based protein. It also contains numerous nutrients including Calcium for healthy bones, phosphorus (used to form teeth and bones), Iron, Potassium, Magnesium for muscle health, Zinc for your immunity, Vitamin E and B-Vitamins.

And Quinoa is versatile, so you can add it salads, curries, wraps, breakfast bars and even porridge. 

3. Mung Beans
Mung beans are an excellent source of plant-based protein, making them an incredibly filling complex carb.

They also provide plenty of Iron, Calcium, B-Vitamins, Copper, Magnesium, Potassium and Zinc, all of which contribute to health benefits including protecting against heart disease due to the antioxidants, helping support your immunity, assisting with weight loss. And they may even help reduce PMS symptoms thanks to their impressive B-Vitamin profile. 
Deliciously filling, add Mung beans to your salads, stir-fries, soups and spicy curry soups.
4. Oats
Another great source of complex carbohydrates, Oats provide you with plenty of soluble fibre that can help you stay fuller for longer. Just half a cup of oats provides at least 4 grams of fibre!
Oats contain twice as much Protein as brown rice, B-Vitamins, Iron, Vitamin E, antioxidants and Zinc. They have also been proven to be useful to help manage Type 2 diabetes and protect against cardiovascular disease.
There are lots of recipes to try out with oats. Including oat ice cream, oatmeal pancakes and maple oat bread. Yes, they're a great choice for breakfast, but you can also use them to make tempeh bacon, banana bread, savoury oatmeal bowls, or you can even coat them in different masalas for a tasty oaty twist.
5. Beets
The delicious root vegetable beetroot is low in calories but high in nutrients! It provides dietary fibre, folate, Vitamin C, Manganese and Potassium, making it one of our favourite complex carbs.

Studies have found that the red pigments found in beets (known as anthocyanins) are a type of antioxidant which may help protect against cardiovascular disease. 
There are lots of ways to eat beets but we love using them to make hummus, falafels, winter salads, curries and even sweet brownies!   

Discover our range of vegan vitamins and supplements here. 
Written by Riya Lakhani, ANutr
Want to hear more? Sign up to our email newsletter for exclusive offers, nutrition tips and news: