6 big signs of stress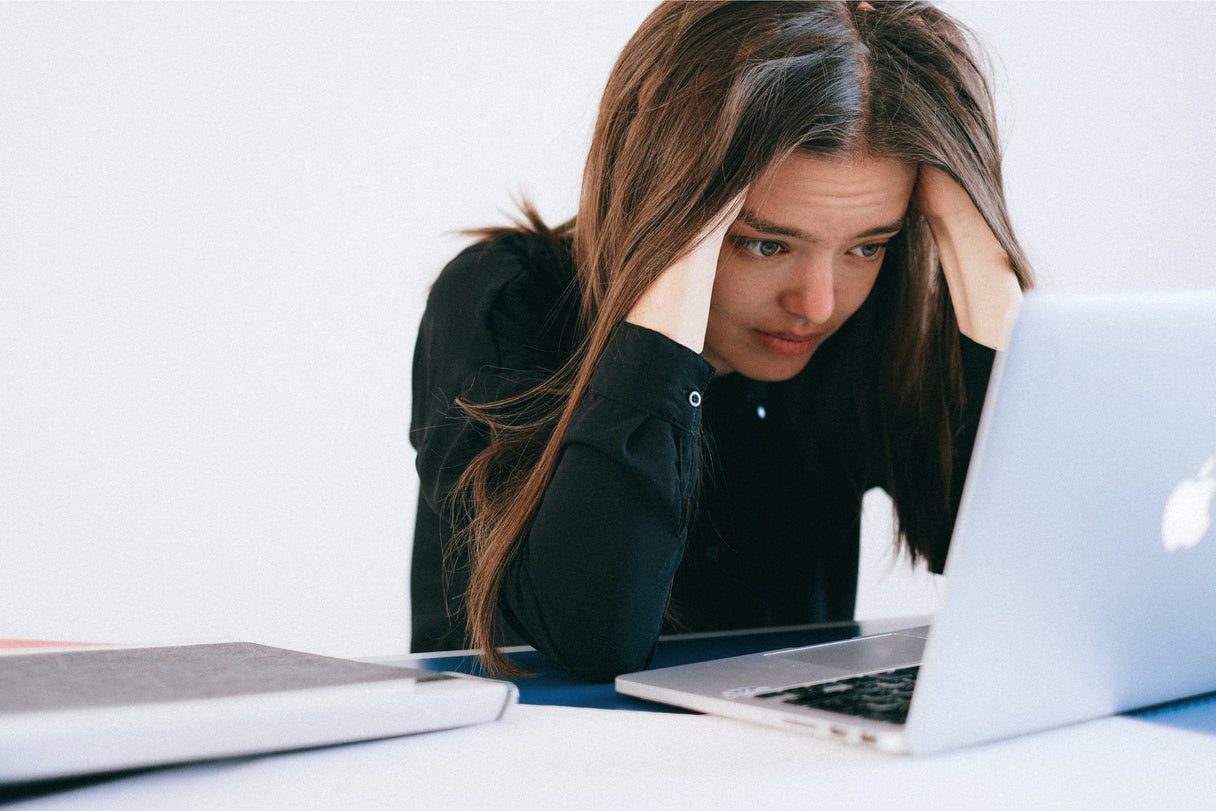 Half of us say we suffer high or overwhelming stress and anxiety, and among 18-24 year olds the number rises to two thirds. These are the results from our survey which also highlights the effects of stress on our energy, mood, hair, concentration and sleep. 
Our research covered 2,213 men and women across all age groups and all diet types. At DR.VEGAN we're passionate about helping you understand your diet and how it impacts your mind and body so you can make healthier lifestyle choices, and providing vegan vitamins and natural supplements for stress and anxiety. 
Who is affected by stress?
49% of respondents say they suffer from high or overwhelming stress. That's a lot of people.
The cost of living crisis and even the after effects of the pandemic will all play a role in these figures, as does the season, with stress levels always at their highest in the darker months. 
A major study into the mental health impact of the Covid pandemic found that in the early stages, 57% of respondents to a survey reported symptoms of anxiety, with 64% recording common signs of depression.
It is also worth noting that whilst many people state they believe they can manage their stress, they may still suffer from physiological symptoms of stress without formally acknowledging them, so actual stress levels are likely to be higher.  
Stay Calm™ is a unique formula of herbs and adaptogens to relieve anxiety and allow your mind and body cope calmly with stress.
Young people and stress
Stress is having the biggest impact on people under 45, and in particular in the 18-24 year age group. The demands of young family life, building a career, managing the finances and worrying about money affect us all, and younger people can have added stresses of studying, deadlines and uncertainty of what lies ahead. 
How does stress affect us?
Stress and sleep
Two thirds of people who suffer high levels of stress also suffer from poor sleep. A lack of sleep can increase your risk of obesity, heart disease and diabetes, not to mention the effects on your ability to focus, your mood and energy levels.
Addressing stress levels not only has a huge impact on your sleep but also your overall health.  Learn more in our research 'The Sleep Problem'.
If you suffer from poor sleep, read our research into sleep, who it affects, and sleep supplements that can help provide a better night's sleep. 
Your diet can also help. Learn more in 'How your diet can improve your sleep'. 
Stress and concentration
To add to our woes, the biggest impact of stress is on our focus and concentration. 
We are 5 times more likely to suffer poor focus and concentration if we're stressed than if we're stress free. Diet and supplements for the brain can help - learn more in 'Best foods and supplements for brain health'.
Discover Vegan Minds | Your brain's Daily Multivitamin
Stress and energy
Stress is an energy sapper and causes us to feel tired and drained.  
A lack of energy is one of the most common factors affecting our lifestyle, irrespective of stress. Work, kids, studying, diet, a lack of exercise and or too little 'me time' can all drain our energy. Adding stress into the mix is a body-blow for our energy levels.
If you're looking for ways to improve your energy and reduce stress through your diet, read our nutritionists advice in 'Tips to boost your energy and reduce your stress.'
Mood swings
We're more than twice as likely to suffer mood swings if we're suffering high stress rather than if our stress is manageable. 
When we're stressed we can get grumpy, short-tempered, impatient, irrational, and often it is those closest to us - family, friends and colleagues - who are on the receiving end. 
The impact of stress on our mood is real. Stress can create a virtual circle of irrational behaviour, poor decision making, depression, and many other factors associated with mood swings. 
Your diet really can improve your mood.  Read our blog '5 foods to improve your mood'. 
Stress and your skin and hair
Aside from the impact of stress on our heart and mental health, our research shows those with high or overwhelming stress are more than twice as likely to suffer from poor skin and hair compared to those who are stress free.  
Again, your diet can help! Learn more in '5 key nutrients for healthy hair' and the 'Best foods and vitamins for glowing skin'.
Stress and weight management
Stress is known to affect our eating habits, causing us to eat at irregular times, choose unhealthy foods and distract us from looking after our health through diet, lifestyle and exercise.   
Our research shows 4 in 10 people who suffer from high or overwhelming stress struggle to lose weight. 
If you're looking to lose weight, read our nutritionists' advice in 'How to lose weight healthily'.
DR.VEGAN® Ashwagandha KSM-66® (500mg) is 100% organic and is acclaimed for supporting your mental wellbeing, reducing stress, bringing a sense of calm, and promoting relaxation in your body.
Conclusion
We all know there is no benefit to stress, and we also know stress can creep up on us without us realising it. 
Our research highlights the tell-tale signs to look out for.  Not sleeping so well? Putting on weight? Lacking in energy? Experiencing regular mood swings?  Poor skin?  These can all be signs of stress becoming unmanageable and getting on top of you. 
Look out for them, be alert to the early warning signs and try to nip them in the bud.  Focus on doing a few simple things well:
Eat regularly and don't skip meals
Keep well hydrated 
Lower your caffeine and alcohol intake
Remove unhealthy processed foods
Exercise, even if only for a brisk 30 minute walk
Vitamins and supplements can also help - discover our sleep supplement and supplements for anxiety including our acclaimed Ashwagandha supplement. 
Above all, it's always good to talk, so if you're feeling stressed, make sure you speak to someone and tell them how you feel.  And you can always get in touch with the DR.VEGAN team, we'd love to hear from you. Our Facebook Community is a kind and supportive place to connect with others, simply click the image below to join for free today.
Discover our range of vegan vitamins and supplements.
Want to hear more? Sign up to our email newsletter to get exclusive offers and news: 
References:
1Professor Sir Graham Thornicroft, 2020. The Silent Pandemic: Covid-19 and mental health. Professor of Community Psychiatry at King's College London.